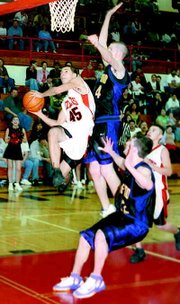 A 20-point effort by senior Derrick Simmons powered the Sunnyside Grizzlies to a 64-56 victory over Selah last Friday. The win was Sunnyside's first this season in Mid-Valley League play.
League favorite Hanford prevented the Grizzlies from making it two conference victories in a row, however, as the Falcons exploded on Saturday for a 92-58 win. By splitting the league games, both played on Sunnyside's home floor this past weekend, the Grizzlies were left with a 1-3 league mark, 3-7 overall.
The win over the Vikings lifted Sunnyside out of the conference cellar, and shows that the Grizzlies are capable of earning one of the six berths to District from the seven-team Mid-Valley League.
"Friday night took us a long way toward making District," said third year Sunnyside Coach Steve Urrutia.
He and his Grizzlies can solidify that they're a postseason contender with a win over Wapato (0-4, 3-9) this coming Friday night. Between now and then, though, Sunnyside must take on league upstart Prosser. The Mustangs (3-1, 6-3) are half a game out of the league lead, and are scheduled to roll into the Grizzly gym tomorrow night (Tuesday).
Besting the Mustangs won't be any easy task. Of Prosser's six wins thus far this season, one came last Friday against the vaunted Hanford Falcons. Prosser also has a win this season against highly regarded Grandview.
Urrutia said Prosser will be difficult to defend this coming Tuesday, as the Mustangs are not only very athletic but are multi-dimensional.
"They really don't have just one or two players you can key on," he said. "They're pretty solid across the line."
If Sunnyside is to get by Prosser, the Grizzlies most likely will have to turn in the type of effort they put forth last Friday against Selah. Especially the way they played in the third quarter, when Sunnyside extended its 29-27 halftime lead to a 54-41 advantage. Simmons was instrumental in the Grizzlies outscoring Selah by a 25-14 margin in the third stanza, as he tossed in 12 of his game high 20 points that period.
Also coming through with a big night against Selah was Jessie Montelongo. The 5'7" sophomore stopped and popped for 12 points. Teammates Brandon Coleman and Ryan Engel added 8 and 6 points, respectively.
Urrutia credits his team's 1-2-2 fullcourt trapping defense and run-and-gun offensive attack with subduing Selah.
"We dictated the pace of the game the first half. We tired them out," he said.
Saturday, Sunnyside tried more of the same against visiting Hanford. The Falcons (2-1, 8-2) proved they were in much better shape than Selah, however, as they fended off Sunnyside's quick style of play and made off with a 34-point victory.
"I think Hanford was a little upset they lost to Prosser the night before," said Urrutia, intimating the Falcons may have bore down a bit harder than usual when they hit the Sunnyside hardwood.
It didn't help matters any, either, that Sunnyside failed to provide an answer for Hanford's big man-6'9" Steve Severin. With Sunnyside's tallest player at 6'1", Severin had his way inside the paint and went off for 20 points to share game high scoring honors with teammate Tom Begalka.
"They kind of intimidated our kids," said Urrutia. "After Friday, I really thought we'd give Hanford a better game."
In the losing effort to the Falcons, Simmons again was Sunnyside's top scorer with 13 points. Coleman and sophomore Gibby Briones added 8 points apiece for Sunnyside, and sophomore Nathan Cornelius chipped in 7. The 5'10" Cornelius, too, had a team high six rebounds against the Falcons. Defensively for the Grizzlies, D.J. Palomarez and James Baysinger each came away with a team high four steals, with Coleman credited for three swipes, as well.
Friday
Selah 10 17 14 15 -56
Sunnyside 14 15 25 10 -64
Selah: Brink 7, Archer 2, Washut 12, Zeutenhorst 12, Eaton 2, McDonald 3, McCorquodade 7, Hayes 1, Jenkins 2, Goodwin 8.
Sunnyside: Coleman 8, Montelongo 12, Simmons 20, Espino 5, Bos 3, Palomarez 2, Engel 6, Cornelius 3, Baysinger 5.
Saturday
Hanford 24 20 32 16 -92
Sunnyside 16 13 12 17 -58
Hanford: Leitze 7, Powers 7, Danakos 14, Curry 9, Cruzen 3, Johnson 9, Mehinovic 3, Begalka 20, Severin 20.
Sunnyside: Coleman 8, Montelongo 4, Briones 8, Simmons 13, Espino 2, Bos 2, Palomarez 4, Engel 1, Cornelius 7, Burgueno 2, Baysinger 7.