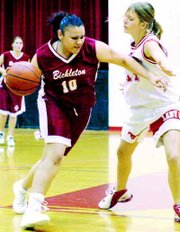 PROSSER - Trying to get another check in the win column, the Bickleton Lady Pirates varsity squad traveled to Prosser last night. Bickleton's efforts to notch its second victory of the season went for naught, though, as the Muastangs 'C' squad prevailed, 41-23.
With both teams pressing their defenses in the first quarter, they battled to a 5-5 opening period tie. In the second quarter Prosser came away with a slight edge, going up 14-9 at halftime.
"They were pretty quick and fast," Bickleton Coach Tom Whitmore said.
In the third quarter, Prosser widened its lead by outscoring the Lady Pirates 15-8. The Mustangs added to the lead in the fourth, outscoring Bickleton 12-6.
"We pressed until halftime then backed off because we were getting in foul trouble," Whitmore said. "We lost our center to fouls."
Bickleton shot 7-for-17 from the free throw line. "A lot better than the other night," Whitmore said.
Prosser managed 11-for-22 from the line.
Kirstin Slater led the Lady Pirates with 10 points. Chelsey Mercer added 3 points. Five other Lady Pirates scored 2 points each.
"We got ourselves into some foul trouble and that really hurt us," Whitmore said. "Prosser played with a lot more intensity than we did."
The Lady Pirates (0-2, 1-8) this coming Thursday will make up the final 28 seconds of their game played against Lyle last month, which was halted when the electricity went out, and then travel to Klickitat on Friday.