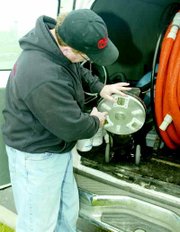 After two months in Sunnyside, Bill LaForce is pleased with how business has been going.
LaForce, owner of Are-Sea Carpet & Floor Services, LLC, has seen his business increase on a steady basis.
"We're getting busy," he said. "I've gotten some local cleaning contracts. I've got a ton of jobs to do when I get back."
He is speaking of when he gets back from Mississippi. LaForce is going there to volunteer with mold inspection work due to Hurricane Katrina.
Are-Sea Carpet & Floor Services does a variety of work on floors. They clean the carpets of residential homes, they do light commercial work, emergency flood work, upholstery cleaning and wood work.
"Mainly wood floors," LaForce said. "We sand it down and re-finish it."
He cleans carpets using a patented system that will dry a carpet in two hours.
"It's great," he said. "When I first saw it demonstrated I told myself I was going to get one. I had one within a few weeks."
LaForce said he has cleaned carpets and they've been dry in one hour.
"It's good because if your carpet stays wet for 24 hours, mold will set in."
LaForce has been cleaning carpets for 30 years. He started in North Bend, Ore. "I did janitorial work for a while," he recalled. "I saw a need and bought my own truck."
Later, LaForce moved the base of his operations to Portland. He landed a cleaning contract with Sizzler Restaurant and ended up cleaning the 30 or so restaurants in the Portland area.
"It grew from there," he said.
LaForce loves the kind of work he does. "It's satisfying," he says. "When you go into a place that's just trashed and you clean it up, make it look nice, it gives you a feeling of accomplishment."
LaForce also met his wife in Portland. She just happened to be from Sunnyside and wanted to move back to her hometown to live closer to family. "We both got tired of living in the city so we transferred over here."
In March, LaForce will add a new aspect to his flood repair work. He's going to buy a digital thermal camera. "We're trying to improve the business," he said. "Bring it up a notch."
The new camera will allow him to see behind walls and under floors for water damage.
After 30 years in the business, LaForce was asked if there were any customers who especially stood out in his memory.
He recalled one time a woman was very upset. One of her pipes had busted, he said, and there was six inches of standing water in the basement. "We took care of her, got the water out and calmed her down," he said. "She was very concerned about mold damage but we got her dried out."
Another time, he remembered, a lady spilled a can of gasoline in her car. "She was obviously upset and worried she wouldn't be able to get the smell out," he said. "I went in there, cleaned everything up with my upholstery cleaner and her car smelled fine after that."
Are-Sea Carpet & Floor Services is open Monday through Friday, 10 a.m. to 3 p.m. at 422 S. 7th St.
"Everyone who comes in gets a free bottle of spot cleaner," LaForce added.