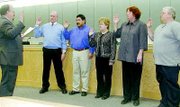 Five Sunnyside City Council members were sworn into office Monday. Three of them-Carol Stone, Bruce Epps and Bill Gant-were elected in last November's general election.
After the swearing in, council re-elected Ed Prilucik as mayor and selected Jim Restucci as mayor pro-tem.
Restucci was re-elected as the city's representative to the Yakima County Council of Governments and Gant was selected as the alternate.
Restucci, Stone and Epps volunteered to serve on the Airport Committee. Restucci, Stone and Paul Garcia will serve on the Finance Committee.
In other council-related moves, former council members Mike Farmer, Bruce Ricks, Don Vlieger and Bengie Aguilar were recognized for their service to Sunnyside.