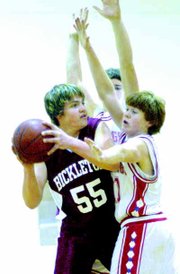 PROSSER - Bickleton's varsity boys basketball team came close, but not close enough in a 54-52 loss to Prosser's C squad Monday night.
"It was really close all the way through," said Pirate Coach Ben McBride. "It was never more than a three or four-point spread for either team."
Bickleton opened with a slim 11-8 advantage in the first quarter, but saw the youthful Mustangs take the lead with a 16-10 second quarter run and a 24-21 halftime lead.
"It seemed like we were one or two points down," McBride said of the remainder of the game.
The Pirates hurt their chances by hitting just 36 percent of their free throws against Prosser.
"It was just one of those nights," noted McBride. "We struggled with that earlier in the season," he said of his team's free throw shooting. "One night we're fine and the other we have problems."
Monday night proved bad timing to have a tough time at the line, as Bickleton still trailed by just three points heading into the fourth quarter.
The Pirate offense finally found itself in the final stanza, tallying 19 points.
"We had several steals, a couple of breakaways and things started clicking again," McBride observed.
Bickleton hit a bucket to pull within two with 20 seconds to play, but lacked enough fouls to force the Mustangs into shooting one-and-one free throws.
"We tried to foul, but they did a good job keeping the ball away from us," McBride said.
The coach liked his team's effort and scoring balance, which saw four players in double figures. Eric Hess led in points and in the paint with 16 points and 10 rebounds. Tyler Jensen scored 14 and hauled down seven boards.
Also reaching double figures were Cody Loomis and Ryan Bravo, with 10 points each.
"We had a decent scoring night but struggled to shut them down on defense," McBride said.
The Pirates (0-2, 2-6) return to league play this Thursday when they host Lyle.