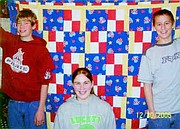 Six Bickleton young people, who are interested in government, are working to become part of the YMCA 59th Youth Legislature Program that could take them to the state capitol in May.
Ilsa Chapple, Jeannette Jarvis, Andrew Venema, Patrick Maeder, Tricia McBride and Johanna Jensen are Bickleton Youth and Government delegates with Nora McBride and Betty Maeder as co-advisors.
Theirs is "a non-profit, educational and political experience to learn what it is like to become government officials by becoming one of them," according to Tricia McBride.
"It is a program that will let us take over the Washington state capital from May 3 to May 6," she said.
"When we are there, we get to run and learn the governmental job positions, what they do and how they work by having governmental positions while we attend. We will write our own bills and argue them while trying to get them passed. If voted highly upon, the real government may look into the bills," she explained.
The group is trying to raise money for round-trip train fare, hotel and expenses.
So far, they have sold Christmas wreaths and are planning to seek sponsors and hold fundraisers. The current fundraiser is raffling a quilt they made. Tickets can be purchased at the Bickleton Market Street Cafe or from any of the six members. The drawing will be held March 11.
The Bickleton Youth and Government group is not associated with the school but is, according to Tricia, "out to learn how to make a political difference in the United States."