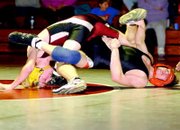 GRANDVIEW - Six pins by Grandview wrestlers helped the Greyhounds cruise to an easy 67-12 victory over East Valley Tuesday night. The win puts Grandview's league record at 2-0, and on top of the CWAC South in a tie with Othello.
Grandview Coach Jeff Sevigny said his team wrestled hard and didn't let up even when they had the dual meet won.
"We looked really good," Sevigny said. "We were very aggressive."
East Valley scored its 12 points from a lone pin and a forfeit.
Miguel Valencia of East Valley scored a pin over Greg Gonzalez midway through the third period to take what Sevigny said was Gonzalez's match to win.
"Greg is a first-year wrestler for us," Sevigny said. "He was in the match."
But mistakes by Gonzalez let Valencia take him to his back, and Gonzalez just wasn't able to get out, Sevigny said.
Grandview's Dalton Walker got the night started on the right foot as he managed to score a third-period pin over Chris Logozzo in the 119-lb. weight class.
Sevigny said Walker's match was good for him because he has a tendency to wrestle out of control. But against Logozzo, Walker wrestled very much in control, Sevigny said, and that was much needed.
Fernando Godinez, at 130 lbs., Shay Seimears, at 140 lbs., Michael Bendavidez, at 145 lbs., Tovias Magana, at 171 lbs. and Freddie Magana, at 275 lbs., all scored pins against East Valley.
The 'Hounds also go four forfeits en route to the victory.
Sevigny said his team is still looking ahead to the postseason, but they're trying not to look ahead to anybody left on their league schedule, especially not Othello.
But before the two league powers can collide in a showdown next week, they must take care of business this week.
The 'Hounds travel to Benton City Thursday night, and Sevigny said he and his team are not going to look ahead to Othello.
The momentum they got with the victory Tuesday night will definitely help, Sevigny said, but a victory Thursday would really help the confidence of his wrestlers going into the Othello match.
"We're going to need it against Othello," Sevigny said of momentum.
The 'Hounds will wrestle the Bears at 7 p.m. on Thursday night, then host Othello next Tuesday night at 7 p.m.