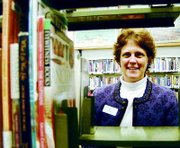 After 22 years in various positions at Yakima Valley Regional Library, Amy Ravenholt is settling in as librarian at Sunnyside. She will have an opportunity to meet library patrons and get acquainted with the community at an open house on Tuesday, Jan. 24, at the library.
Those who attend the open house, which will run from 5 to 7 p.m., will not only meet the new librarian, but can taste-test her baking skills as Ravenholt and other library staff members will serve refreshments of their own making.
"That's part of the fun of being a librarian, baking goodies for people," said Ravenholt.
While claiming to be "a little shy", Ravenholt is also adamant that dealing with people is close to her heart.
"I'm a generalist and that's very appropriate when dealing with people who are interested in a lot of different subjects," said Ravenholt, who added that she likes dealing with the questions library patrons have.
"The reference questions in Sunnyside have been pretty steady while they have decreased at the Yakima library since people are going on-line and doing their own research, but the questions in Sunnyside may be harder because they are being asked after research hasn't provided the answers," Ravenholt said.
She has a good grasp of what's been happening at the Sunnyside library since her positions in Yakima over 22 years have kept her in close touch with most of the libraries in the valley. She did a stint as selector of adult books, handled computer technology and supervised library branches in the county. Her last position was in human resources.
"In Yakima I helped out front, gave training on the computers, kept statistics, wrote procedures...and now I get to practice it!" she said.
"I had an English degree from the University of Wyoming and didn't know what I was going to do with it. I love to read and one day I walked into the public library and said 'yeah, that's what I want to do' and so I went to library school," said Ravenholt.
She earned a Master's degree in Librarianship, a degree that is now called a Masters of Library Information Science. And went straight to Yakima Valley Regional Library.
Single and childless, Ravenholt good-naturedly describes herself as "kind of a stereotype of a librarian", but one who enjoys contra dancing, traveling and thrift store shopping and who took every class in college she could from astronomy to fencing.
Citing the fact that she's only been librarian in Sunnyside for a week, Ravenholt said she plans no immediate changes, but looks forward to hearing what the needs of the community are.
"I need to know Sunnyside better," she said. "I need to know our staff and our community. I'm not walking in the door saying I'm an expert in everything. I know a lot, but I don't know everything!"
She does have a plan in the works, which would involve interviews with Sunnyside residents to learn more about them and their needs.
"I'd like to see what sort of problems face them. Not that they would expect us to solve them, but so we can see what we can do to help the community," she said.
The evening story hours that jumped from zero attendance to a full house before Ravenholt came on board will be continued, but at 10 a.m. on Tuesday mornings beginning Jan. 14, to run through Feb. 14.
On Valentine's Day, Ravenholt and her staff of four will offer a craft session from 4:30 to 6 p.m. at which people of all ages can drop in to work on a craft.
"We want to be hospitable; we are hospitable," she emphasized.
Ravenholt said that she is pleased to have the opportunity to "do real library work and work with books, people and computers, which I also enjoy."
She works five of the six days the Sunnyside library is open.
"It feels good at the library, giving people what they need," she said.