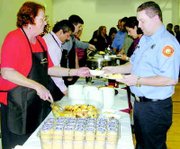 The city of Sunnyside renewed a tradition Thursday morning, today, with an employee appreciation breakfast at the community center.
City Manager Bob Stockwell said the event was a way to recognize the contributions of Sunnyside's staff.
The breakfast also served to commemorate employee loyalty with pins given in five-year increments to longtime staff members.
"We think it's significant that employees make a commitment to the city," Stockwell said of the award pins.
The years of service were also celebrated with movie passes and restaurant gift certificates purchased by the city for its honored employees.
Sunnyside City Council members served up the breakfast. The six council members in attendance were Bruce Epps, Paul Garcia, Theresa Hancock, Jim Restucci, Carol Stone and Mayor Ed Prilucik.
In a brief speech following the breakfast, Stockwell praised city employees for their work in the community. He also recognized the city council's trust in Sunnyside employees, such as the purchase of new city vehicles and ambulances.
"The city council puts these in your hands and it is a great trust," Stockwell told the assembled staff.
The breakfast, which converted the community center gym into a dining area, drew almost all the city staff.
"It's not often that we see all of the staff together," Prilucik observed.
Stockwell said the good turnout and goodwill generated by the event will make it, once again, an annual tradition for city employees.