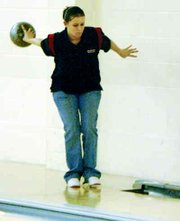 The Selah Vikings and Pasco Bulldogs proved to be too formidable this week for the Sunnyside High School girls bowling team.
Wednesday, Pasco rolled into town and made off with a 3-1 victory. The day before, Sunnyside traveled to Yakima's Minda Lanes and was swept by Selah, 4-0.
In yesterday's competition at Sunnyside's Valley Lanes, the Lady Grizzlies earned their one match point in the first of two Baker games. Sunnyside posted a 130 to Pasco's 123 in the Baker game format, which calls for each member of the five-girl squad to alternate taking turns throughout the 10 frames. Pasco sewed up the 3-1 victory over the Lady Grizzlies by claiming the second Baker game, 148-141.
In the first two total pinfall contests, Pasco prevailed by scores of 839-674 and 756-654.
Four of the five Bulldog bowlers topped the 300 plateau for their two-game series, including junior Jessica Weisz, who topped all bowlers for the day with games of 191-162.
Sunnyside's top bowlers against Pasco were Veronica Uribe (133-137), Katie Weets (150-118) and Kayla Coder (116-144) with two-game series of 270, 268 and 260, respectively. Rounding out the scoring for the Lady Grizzlies were Jennifer Tobin (134-117) and Maribel Rodriguez (91-138).
In JV action against Pasco, the Lady Grizzlies' top bowler in the 4-0 loss was Veronica Alvarez, who had a two-game series of 256 on efforts of 143-113.
Tuesday at Minda Lanes, Selah was led to the 4-0 sweep over Sunnyside by Whitney Jennerjohn. She rolled games of 167-171.
Sunnyside's top bowlers against the Vikings were Weets (134-156) and Uribe (148-140).
In the 3-1 loss to Selah in the JV match, Sunnyside's Alma Romero (123-134) turned in the top performance for the Lady Grizzlies.
Sunnyside closes out the regular season next Tuesday, Jan. 17, at home against the Eisenhower Cadets.