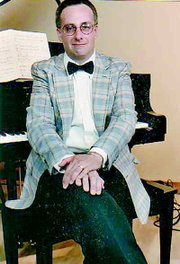 When Activity Director Shari Wilson heard what kind of music Glenn Cutler performs, she thought he'd be perfect to book as entertainment at Sun Terrace Retirement and Assisted Living.
"He sent me a letter and it sounded like something they (seniors) would be interested in," Wilson said.
Cutler will perform from 2 to 3 p.m. on Friday, Jan. 20, at Sun Terrace in Sunnyside.
Cutler, who was born in Edison, N.J. and now resides in Covington, runs the gamut of old-time style music. From vaudeville to ragtime to swing to big band, Cutler's musical influences are evident in his repertoire, which includes more than 700 songs.
He also comes from a musical family. According to his biography on his web site, Cutler's father played the guitar, his grandfather played the banjo, his brother played the trumpet and both his mother and grandmother were singers.
Cutler's web site bio says he caught the vaudevillian bug early.
"I can remember my grandfather sitting me on his knee while he played the banjo and singing..." Cutler said in his biography.
He also was influenced by a friend of his known as "Uncle Floyd," who was a vaudeville pianist and comedian who encouraged Cutler to perform.
"I could tell the cast was having such a fun time with the show," Cutler said of Floyd's show in his biography.
As a piano player and singer, Cutler's musical ability is all self-taught, too. He began playing music at the age of six.
Cutler has recently released his debut CD, entitled "Back to the Basic." The disc features four songs that explore the musician's different musical styles in both vocal and instrumental music.
Cutler performs at more than 100 events a year throughout the Northwest, including shows at restaurants, fairs, banquets, weddings and a variety of other venues.
Currently, Cutler is working with Seattle's public access channel, Scan-TV, to bring his live musical performances to television on a weekly basis.
Cutler's bio says his dream is to keep music alive while ensuring that those watching him perform are enjoying themselves.
Cutler's performance calendar shows how busy the musician really is. Following his performance in Sunnyside that afternoon, Cutler will be performing in Richland later that night. He'll then travel to Tonasket to perform the following day.
For more information on Culter, to buy his CD or to book him for a show, call (253) 495-4251 or visit his web site at www.memorylanemusic.biz.