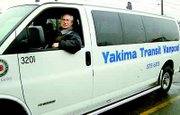 If you are driving roundtrip to Yakima to work every day and the increasing cost of gas is depleting your budget, you might consider hitching up with Gary Pira of Yakima Transit.
"I live in Sunnyside and work in Yakima and that's about 400 miles in a five-day week. With gas costs going up again, I'm paying $35 to $40 a week," said Pira, who is promoting a van pool service that could, he said, cut the transportation cost to about $72 per month per person, based on 10 paying passengers.
Pira said Yakima Transit, where he is transit planner, is willing to put a commuter van into operation from the Lower Valley for those working in the Yakima area.
"We have several new vans that are available, and I would like to start one from Sunnyside where I live to either the city's downtown or Fruitvale areas," said Pira.
He is estimating the cost to operate a 12-passenger van would be about $369 plus a 25-cent per mile fee per person to cover maintenance costs. The total monthly cost to run the van would be $750, Pira said.
"The monthly charges are shared, so the more riders in the van reduces the payment and fewer riders in the van increases the payment," said Pira, noting that 12 passengers could ride for as little as $60 a month.
"The more bodies you have footing the cost, the less it will cost each rider," said Pira, who is suggesting Sunnyside residents should express an interest as soon as possible so the new service can go into effect quickly.
"If we can get the interest, we'll run a commuter van," he said.
He said the objective is to gather as many people as the van can hold and take them collectively to the same location and back.
"Yakima Transit will help get your van pool going," said Pira. "We provide the vehicle, insurance and all maintenance to keep your van running in tip-top shape. Fuel is included, as well as other expenses of owning and operating the vehicle. Riders pay only the monthly fare and help keep the van clean and tidy."
The van pool drivers (there are usually at least two approved drivers per van to cover sick days and vacations) are fellow commuters who are responsible for collecting the monthly fee and fueling the vehicle. In return for those responsibilities, the drivers generally ride free or for a reduced price.
"Unlike a bus route, which has many stops along the way, a van pool tries to mirror a rider's daily drive to his or her work site within the time window that may be a little more than what it takes for an employee to get to work by themselves," said Pira.
If enough interest is shown by Sunnyside commuters, Pira said Yakima Transit would be willing to run several vans.
Ben Franklin Transit already has commuter vans running from the two Sunnyside Park and Ride lots to Hanford and the Tri-Cities, Pira said. "Now we'd like to take the folks the other way," he said.
"Van pooling is an excellent transportion-to-work option that has been in place for a number of years, affiliated with the state's transit systems in all parts of Washington. Yakima Transit van pools have, until recently, been limited to operating out of the City of Yakima to the Hanford and Toppenish areas, but changes in our insurance coverage have allowed us to now access the Yakima area from the Lower Valley communities," Pira explained.
"Our new Yakima Transit van pool van offers a comfortable, relaxed ride to your work site. They are equipped with all the commuter amenities available, including the StabiliTrac anti-skid option," said Pira.
Anyone who is interested in learning more about Yakima Transit's van pool program, either as a rider or a driver, is invited to phone 1-509-575-6175.