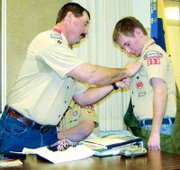 This past Saturday, Tim Wyatt did something just 2 percent of boys who join the Boys Scouts do - he became an Eagle Scout.
With his family and friends in attendance at the Sunnyside Church of Jesus Christ of Latter Day Saints, Wyatt, 18, was awarded the Scouting's highest honor at his Eagle Scout Court of Honor.
But it almost didn't happen, Wyatt's father, Randall, said.
Mr. Wyatt said when his son turned 16, the thought of cars and girls sidetracked him from going all the way and becoming an Eagle Scout.
Tim disagreed, and said it was more like age 14 when he began to lose interest in Scouting, even though he said he'd been involved in scouts since the age of 8.
But you can't bottle up a proud father's emotions.
"I'm pretty proud to see him get all this done," Randall said of son's accomplishments.
And they certainly were accomplishments.
In order to become an Eagle Scout, many things have to be done. First, a scout must have earned 21 merit badges. Those badges have to be in a variety of different things, from physical fitness, to citizenship, to the environment, said Scout leader James Yeager, who presided over the court of honor.
"It's been a real pleasure to watch these men grow," he said referring to Wyatt and the other Eagle Scouts he's seen come through in his term with the program.
In addition to the badges, Wyatt had to complete a service project.
For his project, he decided to build and donate picnic tables to Camp Zarahemla near White Pass. Randall said in order to get the project accomplished he and his son, along with help from others spent 11 hours one Saturday working to put the tables together in a sort of assembly-line fashion.
He said Lowes in the Tri-Cities and Home Depot in Yakima both donated a lot of the supplies they needed for the job.
Now that the project is done and is something he can be proud of, Wyatt said he's going to look forward to graduating from COMPASS High School in Grandview and go on to either a trade school or college.
He said he might like to help out in Scouting eventually.
"Maybe later in life I'll help out," he said.
But at this point, now that things are done he can sit back and take it easy.
"It means I don't have to do it again," he said. "I guess I can kick back and relax now."