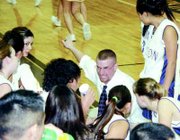 by Ben Davis & Corey Russell
MABTON - It would have been easy for the Lady Vikings to look past Riverside Christian with what they had coming up on their schedule - Sunnyside Christian.
But Mabton kept their composure enough to get the win this past Friday night 44-38 over Riverside Christian, to set up the match-up of the season thus far in the Greater Columbia B League.
Friday, Mabton came out ready to play Coach Mike Roettger said.
It was the first time in Mabton's history that the girls had beaten Riverside Christian, and Roettger said it put his team in the driver's seat for the district playoffs.
"We control our own destiny," he said.
Last year, Roettger said, his team fell by 40 points. A far cry from Friday's result.
But against Riverside Christian, his team was just 6-of-22 from the charity stripe, and 2-of-12 from the line in the fourth quarter. Both are things that need to improve Roettger said.
Overall, though, Roettger said he was proud of his team's performance.
"It was big for us," he said. "We had some kids step up big for us."
Erica Sanchez and Anna Montelongo each dropped in 13 points for the Vikings in the win over Riverside Christian.
The win set up a match-up of the two best teams in the Greater Columbia B League this past Saturday night as the Lady Knights of Sunnyside Christian came to town.
Right off the bat, it was a battle. Mabton was outscored 16-5 in the first quarter, a deficit the Vikings would never be able to overcome, as they fell 61-51.
"We knew they'd have the adrenaline going," said Sunnyside Christian Coach Al Smeenk. "We wanted to come out and make a statement right away."
And make a statement, they did.
Roettger said the first quarter was what killed his team's chances, but despite how much his team was down, they never gave up.
"It would have been easy for our kids to just fold," Roettger said.
In the second quarter, Roettger's team was down by as many as 18 points, before clawing back into the game to trail by just 10 at the half.
That was as close as they'd get, however, as the second half was a wash.
Smeenk said because the game was in Mabton, and because it was a rivalry game, he didn't want to get behind and let the crowd get into it.
"I did not want to get behind because you get the fans excited," Smeenk said.
For the Knights, Tori Van Wingerden lead the team in scoring, dropping in a game-high 28 points.
Emma Newhouse also had a big game for the Knights, as she scored 14.
For the home side, Ana Jimenez had a team-high 15 points, and Erica Sanchez contributed 11 points in the losing effort.
Roettger said his team played with intensity and he expects to have a better showing against the Knights in their late-season rematch.
"When we play them again I expect us to come out a little more intense from the get-go," Roettger said.
With the win the Knights (5-0, 9-2) are all alone atop the Greater Columbia B League. They return to league action Tuesday when they travel to Toppenish to play Yakama Tribal.
The Vikings (4-2, 9-3) return to action Tuesday night when they travel to Tri-City Prep for a non-league game.