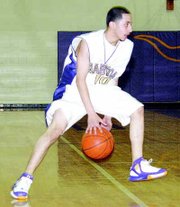 Playing two of their toughest competitors, the Mabton Vikings boys basketball team came away from this past weekend in great shape, they sit on top in the Yakima division of the Greater Columbia 'B' League.
On Saturday night Mabton hosted rival Sunnyside Christian, winning 56-49. It was an intense game from the start. Mabton's Alex Zavala got things going early in the first quarter, burying three straight 3-point shots.
Zavala's marksmanship and some tough man-to-man defense enabled Mabton to take an early 11-2 lead.
"Getting a lead and keeping it against Sunnyside Christian is extremely important in order to control the tempo of the game," Mabton Coach Brock Ledgerwood said. "With the lead Alex got for us early, we were able to spread the floor against their tough 2-3 match-up zone, get the shots we wanted and get to the free throw line.
Sunnyside Christian Coach Dean Wagenaar agreed that Zavala's play early on was one of the keys to Mabton scoring the victory.
"Zavala hurt us very early and we had to play catch-up the rest of the way," Wagenaar said.
The Knights fought back in the first quarter and were down by only four points after one. In the second quarter the Knights fought to within three points.
"We had our chances to score before halftime, but we couldn't get our shots to go," Wagenaar said.
Although the Knights closed the lead several times, the Vikings led the whole game thanks to some great defense.
"Our defense picked up the intensity," Ledgerwood said. "Eric Tellez and Marco Pineda, along with intense ball pressure from our guards, did an outstanding job containing Chad Den Boer. Chad is arguably the best player in the league right now and is definitely the focus of everything they try to do offensively. We scouted them and knew that coming in, so it was our focus defensively to contain him and it took a team effort to get it done."
The Vikings were able to hold Den Boer to only 10 points.
"They (Mabton) focused on stopping Chad. They double-teamed him every time he touched the ball," Wagenaar said.
With Den Boer limited to 10 points, although he did snatch eight rebounds, the Knights turned to Matt Haak and Aaron Van de Graaf, who popped in 19 and 14 points, respectively.
Mabton used 12-for-17 shooting at the free throw line and some key baskets by Marco Pineda and Ruben Mejia late in the game to seal the win.
Zavala led the Vikings with 24 points. "Alex came up big for us offensively," Ledgerwood said. "His 3-for-4 start behind the 3-point arc was exactly the boost we needed to start the game and he finished off with a solid effort from the free throw line in the fourth quarter."
Andy Rodriguez finished with 12 for the Vikings. "Andy Rodriguez was the focus of their zone defense and they covered him well," explained Ledgerwood. "He did a great job of not forcing the issue and getting his teammates involved in the offense."
Ruben Mejia finished with 7 points for the night.
"Give Mabton credit," Wagenaar said. "They played their hearts out.
"When you're wearing the bull's eye, it's big. You have to tough it out," he said of the Knights, who are the defending 'B' State champs.
Saturday's loss was the first of the season in conference play for Sunnyside Christian (4-1, 9-2).
In Mabton's other game this past weekend, the Vikings traveled to Yakima to take on Riverside Christian Friday.
"Riverside Christian is an extremely tough place to play," Ledgerwood said. "Going in, you always know that Coach Siebol will have his kids playing at the highest level of intensity for 32 minutes. They are well coached, fundamentally sound and get in your face defensively."
In a tough, hard fought, man-to-man defensive battle, the Crusaders came away with a victory, 33-31.
Mabton shot a season low 31 percent from the field and was1-for-10 from the 3-point line.
"The intensity both teams displayed defensively was incredible," Ledgerwood recalled. "I can't remember more than one or two open looks for each team. This resulted in both teams shooting an extremely poor percentage on field goals."
The game was extremely close. Mabton was behind 16-14 at halftime and was down 22-20 after three quarters.
In the fourth quarter, Riverside led by 5 points with just under three minutes to play. Mabton battled back and actually took the lead when Pedro Huecias stole a Riverside pass and took it the other way for a lay-up to give the Vikings a 31-30 lead with 1:32 to play.
In the final 25 seconds, Riverside was able to grab three offensive rebounds. The final rebound was kicked out to Trevor Pynch who hit a fade away jump shot with 11 seconds left in the game. Pynch was also fouled, which sent him to the line. After hitting his free throw Riverside led 33-31.
Mabton had a chance to tie but Rodriguez's 12-foot jump shot hit the rim as the buzzer sounded to end the game.
"The difference in the game came on the glass," Ledgerwood said. "We got out rebounded all night and gave them too many second, third and fourth chance shots. In the final seconds, that was the difference. Give them credit, they hit the boards hard and we didn't stop them."
Overall, Ledgerwood was very pleased with his team's performance this weekend.
"This weekend we played back-to-back games against two league favorites, our two league rivals and went toe-to-toe with them," Ledgerwood added. "We were one rebound away from being 2-0 this weekend but on the other hand, we were a couple of buckets away from being 0-2 as well."
Mabton is halfway through its league schedule and still have six more tough games to go.
"Our kids have to stay focused on our goals and continue to get better as a team if we want to keep running with the top dogs in the league."
Mabton (5-1, 10-3) plays Lyle this Friday, Jan. 20, on the Cougars' home court.