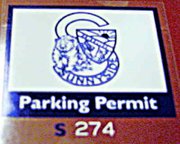 "We have needed a parking permit system at our school for a long time," said Ryan Maxwell, Assistant Principal for Sunnyside High School.
Maxwell is heading up a new permit program, effective Jan. 24, which requires students and staff to produce evidence of a driver's license and auto insurance in order to park their vehicle at school.
"We have a lot of kids who drive to school without those things (license and insurance)," Maxwell noted. He said during the last school year alone there were two incidents where uninsured students hit other vehicles in the parking lot.
The result, Maxwell added, is a big question mark about who foots the bill for the damage. Often, it is the insured motorist whose car was hit that pays up.
"To curb that (in the school parking lot) we have installed the parking permits," he said. "If students drive to school, then they need to fill out a registration form, and provide proof of license and insurance.
The permit costs $3, and is valid for the school year. Maxwell said the fee is not income for the school, but rather goes towards paying for the permits.
The permits are issued in one of two colors.
A blue permit indicates a driver with a permanent driver's license, while red indicates a new driver on the state's six-month requirement limiting passengers in the vehicle.
Maxwell said a first-time offender is issued a warning.
A second offense receives a $10 ticket issued by the school, not by police, Maxwell emphasized.
If a driver commits a third permit violation, then the vehicle is towed.
Students and staff have been given three weeks to comply with the permit requirement, which will be enforced effective Jan. 24, when the second semester starts.
The permit does not apply to those visiting campus or attending after-school functions, said Maxwell.
Driving without a driver's license and/or insurance is against the law. But there is little, or nothing, police can do if a non-insured motorist is on school property.
"Police can't ticket them until they leave school grounds," explained Maxwell. "But if police get wind of which kids aren't licensed or insured, they'll at least know to be on the lookout."
He said there have been a few parents and students complain about the new permit
"Some parents were concerned about the fee, but understood when they learned the money would pay for the permit," Maxwell noted.
He said he has heard complaints from five students about the plan. "That's not bad out of 1,400," he added.
Maxwell said the system is here to stay, especially since it has the stamp of approval from Principal Brian Hart and student government.
"We've taken our time with this," Maxwell said of the six months school staff has spent fine-tuning the permit system. "We know there will be a lot more time needed for the office to monitor the permits."
Maxwell said Sunnyside's high school permit system gained lessons from, what he termed, other successful models in the valley, such as Granger's.
At the end of the day, he added, the goal of the permits is not to tow vehicles or fine drivers.
"Our goal is to have our drivers at school insured and licensed."