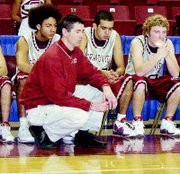 YAKIMA - In Monday's 59-53 loss at the Tourneytown.com Classic in the SunDome, the Grandview boys basketball team tangled with Nooksack Valley, top-ranked among 2A teams in the state.
The Greyhounds battled to stay close to Nooksack Valley, but it appeared the game was over when the 'Hounds trailed by 10 with just two minutes left.
But, as it has all season, Grandview's fly trap man-to-man defense sparked a rally to make things a bit too close for comfort for the Pioneers.
James Vela swiped the ball from a Nooksack Valley player and fed C.J. Lopez for a trey. After the Pioneers were pressured into a turnover, Lopez came back to nail another three-pointer.
That made it 55-51, and Grandview had a chance to get even closer after the Pioneers missed the front-end of a one-and-one free throw attempt.
The 'Hounds rebounded and had a chance to pull even closer with 30 seconds to play.
"We called something out (a play from the bench) but we didn't execute it," Grandview Coach Scott Parrish said of the missed jumper.
There was a final opportunity in the last seconds to get it to a two-point deficit, but that shot went awry as well. Nooksack Valley, in turn, settled down to find easy backdoor baskets and held on for the win.
Nooksack Valley opened the game with a double digit first quarter lead and settled for a 19-11 advantage after the first stanza.
The Pioneers dwarfed Grandview, making the most of a line-up which featured all five players standing six feet or taller.
Nooksack's tallest starters, Chris Mitchell and Jeb Hobbs, were 6-7 and 6-5, respectively.
The result?
A 40-to-24 rebounding edge for Nooksack Valley and more play in the paint than pre-school finger painting.
"We knew going in that their height could give us trouble. They killed us inside," said Parrish. "Getting outrebounded has been a problem in both games we've lost this season," he added in reference to a previous overtime loss to Prosser.
Nooksack Valley isn't just tall. Take, for example, Pioneers' guard Rich Skillman, who scored a game-high 20 points while dishing our four assists and recording three steals.
Despite all that, Grandview mustered a response in the second quarter to make it a three-point game at halftime as Nooksack Valley led 25-22.
Led by Nate Zavala and A.J. Valencia, who both scored 13 points, and 11 from Lopez, Grandview had a chance to make it a two-point game at the end of the third quarter.
The Greyhounds were on the run with a last second breakaway opportunity to pull within two, when an errant pass sent the ball and momentum Nooksack's way.
That resulted in a six-point deficit, 40-34, heading into the final quarter.
Nooksack Valley, located near Bellingham, started to pull away in the fourth until Vela-who scored only nine points but hauled down a team-high 6 rebounds and dished out four assists-and Lopez teamed up to make things interesting. Valencia also grabbed 6 rebounds in the loss.
"We tried to mix up our defenses against them but they did a good job of adapting to the pressure," Parrish said of Nooksack Valley.
Still, there was plenty for the 'Hounds (3-0, 8-2) to be proud of in coming so close to the, for now, top team in the state.
"We know we can be competitive with one of the best, if not the best, teams in the state," Parrish said of Grandview, which captured third at the State 2A tourney last year.
"Hopefully, the experience in playing a great team will help us if we're lucky enough to get back (to the SunDome for the 2006 state tourney)."