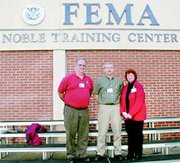 Sunnyside Community Hospital Public Relations Director Tom Lathen was one of 27 health care staff from around the United States attending a Federal Emergency Management Agency (FEMA) training in Anniston, Alabama last week.
The class, entitled "Advanced Public Information Officers: Health and Hospitals," is designed to train health care leaders to be part of a coordinated response to a local, regional or national disaster.
The Anniston class was based on the creation of a joint information center in the event of a fire, shooting, earthquake or other extraordinary event. The information center has representatives from all of the groups involved coping with the incident and restoring life to normal for those who are impacted.
While the command center is located close to the incident, the joint information center can be housed at a different location. They coordinate the release of information and follow up with the leaders in the command center. A liaison works between the command center and the information center.
"I worked as a reporter during the Mt. St. Helen's eruption in 1980, so I have experienced the chaos a disaster situation creates," Lathen said. "What the FEMA class taught me is that coordination of information release is a public service that follows all the good work of fire, policy and first responders.
"It is not controlling what the public learns, but rather more focused on getting all the agencies to address the most pressing needs of the public," Lathen continued.
Yakima County Emergency Management has a countywide disaster plan. Hospitals and emergency response personnel practice disaster situations at least once a year. The federal government has also increased funding for training like that Lathen attended because of the increased concern for public safety following the September 11th terrorist attacks.
The hospital (and many other first responding agencies) works with the county (and state) to coordinate disaster response.
"I think the public information during and following the Grandview chemical fire last year might have been handled more cohesively if we had received this type of training," Lathen said. "While the fire crews, law enforcement and aide workers did a great job, there could have been greater unified public information about the fire and the follow-up issues of clean-up, temporary evacuation and return home."
Lathen said Yakima County Emergency Services personnel are well trained and attuned to the programs of the dozens of other agencies he met while training in Alabama last week.