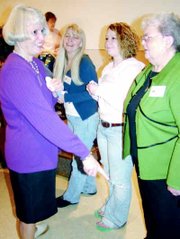 Helen Wilson of Ephrata is a collector of cartoons who never expected to give up her lifestyle in Spokane to settle in a little old town in the desert.
The reason she did came as much a bolt out of the blue as her interest in cartoons.
"I started collecting cartoons when my name, literally, started turning up in them," said Wilson.
"My first cartoon was one of a man and woman in a car parked in a mall parking lot. There was a sign in front of the car that said 'Space reserved for Helen Wilson', and, in the next frame the man is saying 'Just how much have you been spending in these stores, Helen?'," said Wilson, whose story elicited laughter from the women gathered at The Barn Restaurant in Prosser this past Monday for the monthly meeting of the Lower Valley Christian Women's Club.
The topic on which Wilson, a former elementary school teacher and 'homemaking engineer', was speaking was "A Baby Boomer's Guide to the Ideal Life".
"We were the Spock Generation, the Now Generation, the Woodstock Generation. Baby boomers were never supposed to grow old or grow up...and some of us never have," said Wilson, giving every appearance of a woman who definitely has grown.
She told the group that her mother, who had lived up to the TV images of June Cleaver of Leave it to Beaver and Father Knows Best, died when she was 10 years old. "My father tried to raise three daughters as best he could," she said.
"I was 19 and we were living in the time of the assassination of John F. Kennedy, the assassination of Martin Luther King, whose day it is today, and the assassination of Bobbie Kennedy," Wilson said yesterday.
While "college campuses were exploding all over the country" and the voices of the day were urging young women to break out of the perfect Donna Reed mold, Wilson said she decided to go to college "where I might find education, a purpose and even get a husband," she said. "And I got all three."
She said her husband was raised on Donna Reed and June Cleaver material and she was raised on Father Knows Best, so both "brought some expectations into our relationship.
"We discovered-at least in our marriage-that life wasn't ideal," she said.
"I expected him to take over where Father Knows Best left off, to balance the checkbook and keep it full," she said, laughing.
He, in turn, she said, expected a wife much like the TV wives they had both watched.
"We decided I would be the mom and he would go to work and be the dad. I decided I would be Mary Poppins, June Cleaver and Donna Reed rolled into one. I found out it was work-and boring-to stay home and be the mom. Then the Women's Movement came along and I began to feel very stuck at home, resentful and bitter," said Wilson.
Then it was that she bumped into a Christian Women's Club, which was offering a lunch with other adult women and free nursery care for the children.
"I was enjoying this time with other moms and feeling safe that my own little girl was being taken care of safely while I was having fun," she said.
"The speaker was a man, from Texas; I love a Texas drawl, and I was having a good time. Then he asked a question: 'If you were to die tonight, do you know for sure that you would go to heaven.'
"That was the end of my party," she said. "I didn't have an answer for that question."
She said she sat in that meeting and heard that Jesus Christ loved her and, if she trusted and put her faith in him, he would never leave her or forsake her.
"That was the love and acceptance I'd been looking for all my life," Wilson said.
"Before that meeting, I wanted to do it my way or no way. Now I heard that was sin, but I didn't have to get my act together. I didn't have to join anything or change anything. God would love me as I was."
In that meeting, she said she "found peace in place of the guilt of the past, contentment and hope and a future. I knew he had a plan for my life."
She said she had expected to continue her life in Spokane, "attending the Christian Women's Club, the friendship Bible coffees and playing golf", but her husband asked her what she thought about moving to Ephrata.
"We had college friends who lived there and had visited there. I thought it was a great place to visit, but he was asking me to live there.
"So...I was headed to the desert. And I discovered that God was faithful even in the desert. That he will be my rock and my deliverer," said Wilson, pausing and then asking a question of her audience:
"What is your rock? What is your foundation?"
She let the 50 plus club members present yesterday mull over that question for a bit. Then she asked them to join her in a simple prayer to the Lord. telling him that "I want you to be the center of my life".
Wilson concluded her talk with a statement and a reference to the first cartoon she collected: "I know he is preparing a place for me in heaven-and it is a space reserved for Helen Wilson."
The Lower Valley Christian Women's Club meets monthly, usually at The Barn Restaurant in Prosser for an 11:30 a.m. to 1 p.m. luncheon with a speaker and entertainment. Monday's entertainment was provided by Cindy Mears of Mabton, who sang two songs for the group.
There are no memberships or dues at this club. "Whoever shows up is one of us and welcome," a club spokeswoman said.