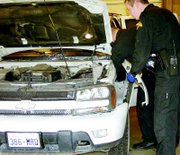 Sunnyside police are looking for three men and two women suspects in relation to the fatal shooting of Xavier Perez, 28, on Dec. 22, 2005 at his rental home at 1713 Guernsey Street in Sunnyside.
"We have four suspects relating to that incident," Det. Sgt. Jeff Cunningham of the Sunnyside Police Department said this morning.
"They are Sonny Brooks Rodriguez, 30, Fidel Medina, 26, Deciderio Palencia, 18, and a woman, Amanda Austin-Clark, 22. They are all from the Sunnyside area," said Cunningham.
A 2002 white, Chevrolet Trail Blazer Sunnyside police believe was used during the fatal shooting of Perez was undergoing inspection yesterday at the Sunnyside Police Department.
Washington State Patrol officers arrived about 11 a.m. with a special imaging device which can measure the density of metal as well as snake its way into small spaces to take pictures.
The officers were scanning the vehicle for proof that bullets had impacted the vehicle, as they suspected.
The imaging device, which looks much like the security wand used at airports, is a tool that the Sunnyside police do not have at their disposal.
"We are being assisted by the state patrol," Detective Sgt. Jeff Cunningham said yesterday during the inspection of the vehicle taking place in the garage at Sunnyside's Law and Justice Center.
After the troopers scanned the vehicle, they began to dismantle it.
Detective Cunningham said this particular vehicle was being sought after police talked with witnesses and followed other leads provided after the shooting. He declined to say where it had been located.
Police are still seeking the whereabouts of witnesses, Jose Campos-Cortez, 22, and Laura Fabiola Ascensio-Munguia, 20, who resided at the Guernsey Street home with Perez. Police believe they were at the home at the time of the shooting, which occured about 4 a.m. Dec. 22.
Anyone with information about this crime is asked to notify the Sunnyside police at 509-836-6200.