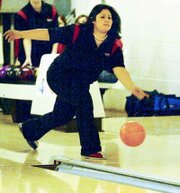 The Sunnyside High School girls bowling team closed out the 2005-06 season with a 2-2 tie against the Eisenhower Cadets yesterday afternoon.
Bowling at Sunnyside's Valley Lanes, the Lady Grizzly keglers won the second head-to-head match-up, 676-659. Ike was victorious in game one, 726-580.
Sunnyside then won the first of two Baker games, 148-126. The Baker format calls for each member of the five-girl squad to alternate taking turns throughout the 10 frames. The Cadets earned the 2-2 split by winning the last Baker game, 142-127.
In the first of the two head-to-head contests, Ike got a pair of 176 and 170 performances from freshman Kayla Nickles and senior Jenifer Dean, respectively. That was enough to power the Cadets to the opening 726-580 victory.
In the losing cause in the opener, junior Kayla Coder rolled a 142 to lead the Sunnyside girls. Senior Jennifer Tobin and junior Veronica Uribe added efforts of 128 and 127, respectively, with teammates Katie Weets and Maribel Rodriguez closing out the team scoring with scores of 98 and 85.
Sunnyside won game two by a total of 17 pins. Weets led the 676-659 win by shooting a team high 156 for the Lady Grizzlies. Also contributing to the victory were Sunnyside's Tobin (144), Uribe (141), Coder (119) and Rodriguez (116).
This year's Lady Grizzly bowling team earned two ties in the 16 matches it competed. In the other 14 competitions Sunnyside absorbed a loss. Sunnyside did not qualify to compete at the Jan. 24 Regional tournament, to be staged at Ellensburg's Rodeo Lanes next Tuesday.
In JV action against Eisenhower yesterday afternoon, Alma Romero led the junior varsity Lady Grizzlies to a 2-2 tie. Romero opened with a 134 in Sunnyside's 647-598 loss, but powered the JV Lady Grizzlies to a 670-584 win in game two, thanks to a sparkling 191 effort. The Sunnyside JV also won the first of the two Baker games, 137-108.