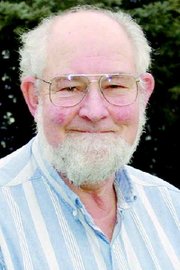 Third-generation farmer Ernie Charvet was appointed to the Sunnyside Valley Irrigation District (SVID) Board this past Wednesday.
"He's a long time Lower Valley resident and he understands farming and water," County Commissioner Jesse Palacios said in making the appointment. "I think he'll do a good job."
Charvet will fill the final year of a board position formerly held by John Newhouse, who resigned the seat on Jan. 3 after serving since 1987.
Charvet has indicated he will seek election to the SVID seat, Director District #2, when the current term expires next January.
"I need to listen a lot and find where we're headed," the Sunnyside-Mabton Road resident said of his first priority in serving on the SVID board.
Charvet, who grows hops on about 300 acres, said on a personal level he has long been a proponent for conservation and water storage, including the proposed Black Rock dam.
"If we don't have water we don't have agriculture, and we don't have a population base," he said.
He praised SVID's work in modernizing the canal system and in cleaning up the return flows to the rivers.
"The thing is not to lose sight of the fact that we're not only providing water for agriculture but for municipal use, too," Charvet added. The city of Sunnyside, for example, will use SVID water instead of more costly city water to irrigate some of the park grounds.
Charvet is not a stranger to SVID. Not only is he a customer, but he participated in the first joint discussion between SVID and Roza back in 1987.
Since then SVID, Roza and other local irrigators have formed a joint board. "We have so much duplication between them that maybe we can do something together to benefit everyone," Charvet said.
Charvet, 60, said he began farming back in 1964, during a time when, "You could take a 20-acre farm and from it feed, house, and send your kids off to school."