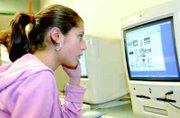 Thanks to a Two Valleys One Vision Grant, Chief Kamiakin Elementary school is offering after-school GEAR-UP activities.
The kids involved with GEAR-UP will have their progress tracked from the 6th grade up to the 12th grade.
The after-school program is offered Monday through Thursday, 2:30 to 5 p.m. Students can attend any of the days, none of the days or they can pick and choose which days they want to attend. It's all up to them.
When the children arrive at 2:30 p.m., they are given a snack and at 3 p.m. the students are split up into groups where they go and study or get tutored for the rest of the time.
The students are offered the choice of studying math, both 5th and 6th grade levels, or English, again both 5th and 6th grade levels. They can also go into a computer lab or just do homework.
With so much available to the students, the school has recently hired Oralia Cisneros as the new parent liaison for the GEAR-UP program.
"Our goal is to find out what parents need so they can better help their kids succeed in school," Cisneros said.
She said parents can take advantage of English as a Second Language programs and computer classes that are offered.
Since the program is new, one of Cisneros' priorities is to inform parents of GEAR-UP. She said she's spoken with parents when they pick up their children in the evenings, and spends a lot of time on the phone calling the parents and explaining to them what GEAR-UP is all about.
"A lot of parents aren't aware of what's being offered," she said. "I'm the one who tries to inform them."
Cisneros says she is looking to get as many volunteers as she can to help with the busy program.
"I love it," she enthused. "It's been really nice. I like talking to the parents and giving them the information available."