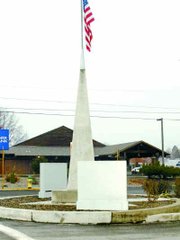 The American Legion is hoping to totally remake the Jerry Taylor Veteran's Plaza in downtown Sunnyside.
"We want to build a memorial that's 50 percent bigger than the one in the cemetery," Greg Schlieve, chairman of the memorial committee, said.
The plan will be considered by Sunnyside's City Council sometime in February, said Schlieve.
The estimated cost of the renovation is $250,000 and will be paid for by veterans and their families. The city won't have to pay a dime, Schlieve said.
The idea is to remove all of the lawn, bushes, roses and shrubs from the area. A sidewalk will run the length of the 400 foot center strip on Ninth Street.
"Initially we will put in eight granite walls but there will be room for a total of 16," Schlieve said. "It's kind of a 100-year design. We'll be able to add to it over the next 100 years or so."
Right now there are some wooden models of two of the granite walls in front of the memorial. They were elected to give planners a look at the proposed design, and to make sure it won't be a problem for traffic.
The two granite pieces in front of the memorial will honor those who died at Pearl Harbor and the victims of September 11th. On the back of each granite wall will be space for 40 plaques. A donation of $300 will allow an individual to memorialize a name on the plaque. Anyone who has ever served in the military will be eligible to have their names inscribed there.