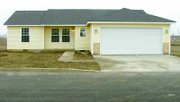 MABTON - Thanks to the Diocese of Yakima Housing Services, Yakima Federal Savings and Loan and the United States Department of Agriculture, low-income Lower Valley families will get a chance to do something many families in the same position never get - a chance to own a home.
New Life Homes in Mabton will give families that range in size from two to eight people, and who make between $16,000 and $53,000 annually, a chance to buy new three to five bedroom homes in the range of $103,000 to $130,000.
Isabel Garcia, New Life Homes program assistant, said the homes, which will be located next to New Life Villa in Mabton, are intended not only for low-income farm workers, but everyone who qualifies under the program's income table.
The program is being offered "so they (low-income families) can stop renting and start owning," she said.
Garcia said depending on a family's income, interest on the leveraged loan participants receive may be anywhere between 1 and 3 percent.
Higher incomes would mean a higher interest rate, while lower incomes mean a lower interest rate, she said.
In order to qualify for the program, applicants need to meet several criteria.
• First, an applicant must fall into one of the income brackets set by the program.
• Second, an applicant cannot have filed for bankruptcy in the past three years.
• Third, an applicant must have a valid Social Security number.
• Fourth, an applicant must be a legal U.S. citizen.
• Finally, an applicant must have an average credit score, although Garcia said she'd work with applicants with no credit.
Right now, Garcia said her program has about six applicants who have qualified, but she'd like to see more.
"(There are) not as many as I wish," she said. "I don't think the Lower Valley residents are informed."
Unfortunately, Garcia said, one of the things that has caused a lot of hang-ups for the program in terms of applicants is a valid Social Security number.
"That's one of the big issues we have," she said.
For those applicants who do qualify, they'll get to help customize their home.
Garcia said new home owners will get to help select a lot of things in their house, from the kitchen counter color, to the flooring and even the exterior color of the house.
The house also features all the necessary kitchen appliances and can include a washer and dryer if the family so desires, Garcia said.
They'll also get to help build the house itself.
Required by the program is 250 hours of work on a family's new house. Garcia said that amount of work is in lieu of a down payment on the house. The work equates to a $5,000 down payment, Garcia said.
Once a home has been finished and the owners have moved in, Garcia said they have to stay in the home for at least five years. At the end of that five years, incentives from the Diocese, which include $25,000 in grant money, means a homeowner will only have to pay back $78,000 on a $103,000 house.
With just six applicants at the moment, Garcia said the program is looking for more participants because there are 22 lots to be sold as a part of the program.
For more information on the program call Garcia at 894-4700, or visit her at 708 Washington St. #I in Mabton.