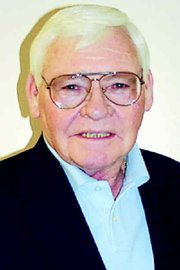 GRANDVIEW - Ask Grandview Mayor Norm Childress what City Manager Jim Sewell's biggest accomplishments have been in the past 21 years, and he points to what he calls Sewell's "unsung" attributes.
"His greatest value to the city may be his ability to keep the council in order and informed and his professional attitude that keeps the city government running smoothly," said Childress.
These 'hidden' talents plus more obvious newsmaking achievements are the compelling force behind the Daily Sun News choice of Jim Sewell as its Man of the Year for 2005.
When good news comes rolling out of Grandview, it is usually Sewell's diplomacy that is driving it.
Probably the most recent feather in Grandview's-and Sewell's-hat was the selection in October 2005 of the city as the site for a Lower Valley District Court, returning to the valley after an absence of eight years. At the time the choice was announced, the cooperation of Grandview city officials was praised by Harold Delia, court administrator, as instrumental in smoothing the way for the selection committee.
While Sewell, at the time, brushed aside all efforts to give him credit for the site location, others, who work closely with him, force the honor upon him, while acknowledging it was a coordinated effort on the part of Grandview.
"We have a great city staff, but there's a reason things seem to run smooth," said Childress. "Jim makes them run smooth."
The most obvious of Sewell's achievements are the development of the Wal-Mart distribution center in Grandview, which will employ 800 people when fully staffed, and bringing a branch of Yakima Valley Community College to Grandview. The construction of the YVCC campus in Grandview was made possible because the city was willing to let the college take over the fairgrounds, which the city relocated to a larger area on Wallace Way.
"I know those are a couple of things he's real proud of, the jobs involved and the benefit to Grandview. He was pleased to get the college and the college was extremely happy to have Jim work on that with them," Childress said.
Childress, who has been involved with Grandview's government for 13 years, either as a member of the planning commission, the council or now as mayor, saw the fruits of Sewell's labor the first year Childress took a seat on the council.
"The fire station was built that year, and the senior center was also one of Jim's achievements," Childress said.
"I think it's Jim's true heart to make Grandview better and he's a true professional who is always on the job and always mindful of Grandview and wanting to improve it," said Childress.
He pointed out that the transition in city leadership that became necessary when Sewell tendered his resignation in November 2005, but agreed to stay on until his replacement was found, should be an easy one in this new year.
"It's because of his professionalism that he has things set up so somebody can step in without being met by problems," said Childress.
"What distinguishes Jim from the typical city administrator is that, over the years, he continued to look for ways to improve our community," said Mike Bren, who was Grandview's mayor from December 1998 to December 2004. "He has such great contacts throughout the state and is able to find money to match grants that made improvements possible."
Among those improvements made with grants, Bren noted, was construction of a wastewater treatment plant, improvement of the entrances to town via Wine Country Road and a complete re-do in an area east of downtown that installed sidewalks, gutters and trees along the streets. Bren pointed out that the Alice Grant Learning Center and two wings at the YVCC campus in Grandview, one of which is named for Sewell, were also built with grant money Sewell was able to ferret out.
"I think Jim has been an excellent city manager," said Childress. "I think he is a professional that's driven to succeed. He has a real entrepreneurial spirit about him that's served Grandview well. We've had good leadership with city councils and mayors, and Jim is a sort of key to making that run.
"If the team were a wheel," Childress concluded, "Jim would be the hub that keeps us rolling."