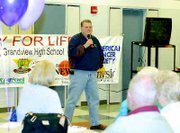 GRANDVIEW - The first meeting for the Lower Valley's 10th annual Relay for Life was held last night in Grandview.
Past participants and new ones got together to learn about and plan for the coming event.
"It's our kick-off for our '06 rally," Melanie Corso, chairperson for the Lower Valley Relay for Life, said. "We're getting teams registered so they can start raising money for the American Cancer Society."
Anyone can start a team up. The one who starts the team is called the captain and they go out and recruit members for the team. There are 10 people to a team.
During the 24-hour relay, a team must have at least one member on the track during the duration of the event.
Each team will try to raise money for the American Cancer Society.
"Some teams will get people to sponsor their progress during the relay, paying for how many laps the team does or how many hours they are out there," Corso said. "Most teams, though raise their money before the event."
They do this by having small fundraisers. Some will have bake sales, others will sell Relay for Life apparel and some sell luminaries, paper bags with candles in them that are lit at the relay. Usually a name is on the bag.
The registration fee for a team to enter is $100 and that money goes to the American Cancer Society. If a team enters after Feb. 16, the fee raises to $150.
Something new this year are the points teams will be competing for. The team with the most points will win a camping set. The set includes a tent, sleeping bags, camping chairs and an ice chest.
Teams can accumulate points by attending all of the captain's meetings, recruiting new teams, finding new corporate sponsors and having all of their forms turned in on time.
Two cancer survivors also spoke about their experiences last night. Greg Smith and Lisa Kinner told the crowd how the American Cancer Society and Relay for Life helped them cope with the knowledge they had cancer while they fought to survive.
"I was devastated when I found out I had cancer," Kinner recalled. "The volunteers were great. They were a small light at the end of a very dark tunnel."
Kinner was speaking about the American Cancer Society volunteers who help people with cancer. "They even provided transportation to and from treatment," she added.
The planning committee has set a goal of 75 teams for this year and hope to raise $120,000. Last year 60 teams participated and raised $95,000.
The committee and team captains will meet once a month until the relay, which will be held May 20-21, from noon to noon in the Grandview High School stadium. The next meeting will be Feb. 16, at 5:30 p.m. at the Immanual Lutheran Church, located at 300 Euclid in Grandview.