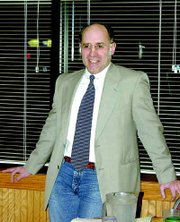 With a Bible and a copy of the Constitution, senatorial candidate Brad Klippert spoke before the Sunnyside Republican Club this morning in a speech that explained his reasoning for his senate run.
"I'm a Republican candidate for Senate in the year 2006," Klippert said to open his talk.
A Sunnyside High School graduate and Benton County Sheriff's deputy, Klippert announced his candidacy on Dec. 30, nearly 10 months before the September primary.
Klippert made his position on many subjects clear, beginning with national defense.
"I believe in a strong national defense," Klippert said. "Although nobody wants to go to war, somebody has to be prepared to do so."
He also told the dozen members of the club that he's a firm believer in a citizen's Second Amendment rights - the right to own and use guns.
On the issue of intelligent design, Klippert pointed to his copy of the Constitution, and said that the country's founding fathers believed in a creator that endowed man with certain inalienable rights, as a reason intelligent design should be taught in schools.
Klippert also said he's a strong supporter of clean, nuclear power. "I firmly support the hard-working people out at the Hanford Project," he said.
Along those same lines, Klippert said he would not vote to remove dams if elected to the Senate.
"I would never vote that our dams be breached," he said.
Klippert said he thinks we've lost a bit of discipline and respect in our schools, too.
He said his desire to run for public office came after he spent time in the criminal justice system. Oftentimes a person accused of a crime would want to plead guilty to a given offense, but a judge would not allow him to do so, thus prolonging the course of events, Klippert said.
Those countless guilty pleas that were not accepted told Klippert one thing.
"I saw that there needed to be some change in America," he said.
He said he even thought about going to law school to earn a degree, but a divine calling helped him realize he wanted to run for public office.
If elected, Klippert said he'd also vote to drill for oil in the Arctic National Wildlife Refuge, an issue that has caused a lot of national debate.
"I would strongly support the use of our own resources," he said.
On other controversial issues, like the phrase "One nation under God," in the Pledge of Allegiance, Klippert said he whole-heatedly supports those phrases.
"I strongly believe in 'one nation under God' and 'in God we trust,'" he said.
One big question he faced from those listening to his speech was how he'd sell his message to the west side of the state.
Klippert said he thinks a lot of people in this state want someone who'll take a stand on tough issues, and that will help him get votes to advance to the general election against incumbent Maria Cantwell.
"I think there are a lot of silent Washingtonians out there who are looking for somebody who's going to be a tough leader," Klippert said.
At the moment, Klippert has one opponent set for the primary, Safeco CEO Mike McGavick, a Seattle resident.
Klippert said McGavick has been on the fence about a lot of issues and that will help him get those votes of people who want someone to take a stand.
Overall, though, Klippert said he believes in the people of Washington, and there's one big reason people should vote for him.
"When something comes before my desk (in the Senate), I know how to vote," he said.