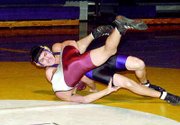 MABTON - With Highland's wrestling team surrendering six forfeits, Mabton cruised to a 48-30 dual match win Thursday.
"It's good to have a match like this over with," said Viking Coach John Kilian. "It's very hard for a team to get psyched up when you already know the result."
Added Kilian, "Even though we knew there would be forfeits, it's still not fun for a kid to practice all week and know he's not going to have a match."
To get in as many matches as possible, Kilian moved his 125, 130 and 135-lb. wrestlers up a weight division rather than forfeit those three matches to Highland.
Speaking of the 125-lb. weight division, Mabton's Andy Torres provided one of the quicker matches of the night, pinning the Scotties' Gary Erickson in just 54 seconds.
Eli Perez, whom Kilian said has lost only four or five matches this season, overcame a sluggish start and a rare deficit to earn a pin with eight seconds remaining in the 189-lb. match.
The rest of Mabton's wins came via forfeits, as Highland did not have a wrestler in six of the 14 weight divisions.
Eric Meza received a forfeit at 103 lbs., Arturo Nunez at 119, Cesar Macedo at 160, Adrian Magana at 171, Damien Marquez at 215 and Robert Marquez at 275.
Kilian credited Highland for making the match as close as it was, despite being shorthanded.
"Highland has some good caliber wrestlers," he said.
The Vikings (2-1, 2-2) host the annual Mid Valley Classic wrestling tournament this Saturday, which features 11 teams.
"It gets the community involved in the wrestling program and it's a real morale builder," Kilian said of hosting the tournament. "It'll give some old Mabton wrestlers a chance to help volunteer," he laughed.
Teams scheduled for the tourney include league foes Zillah, Granger, Goldendale and Cle Elum. Sunnyside's JV wrestling team will also compete.
Saturday's tournament will provide Mabton a preview of three league opponents-Granger, Goldendale and Zillah-they will face next week to close out the regular season.
"It'd be nice to get a strong showing," Kilian said of his hopes for the tourney. "Hopefully the hometown crowd, family and friends will encourage them to wrestle harder."