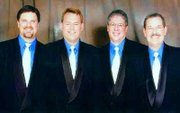 The Rolling Hills Chorus of Sweet Adelines International will present "The Best of Times," featuring Vocal Magic, on Friday, Jan. 27, at 7:30 p.m., in the Sunnyside High School auditorium.
The first half of the show will be narrated by Tri-City veteran actor Tom Powers. The focus will be the 25-year history of the chorus. As Powers narrates, he will be adding his usual quips, ad-libs and humor. The chorus will bring back memories with songs from the past, and old and new quartets will also share the stage.
The Rolling Hills Chorus of Sweet Adelines International has a 25-year tradition of excellence in vocal and performance skills. The chorus has placed first in the 'small chorus division' four times and has placed in the top three several times. In 1997, they won the most improved chorus award.
The chorus is comprised of approximately 40 women from the Lower Yakima Valley and Tri-City area. Their love of music is expressed in their performances for the community. They guarantee to have you humming and tapping your feet.
The second half of the show will feature special guests, Vocal Magic. This barbershop men's quartet has sung in numerous venues across the United States and Europe.
In 2005 the quartet were the Evergreen District Champions and international qualifiers in 2004 and 2005.
Tickets for the show will be available at the door or they can be picked up at the Sunnyside Daily Sun News, located at 600 6th St. Prices are $10 for adults, $8 for students and seniors, and children under 12 are free when accompanied by an adult.