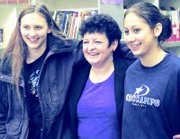 MABTON - Tamara Steen, a woman who has dedicated herself for 22 years to educating the young people of the various communities in which she has lived, is The Daily Sun News' choice of 2005 Woman of the Year.
If the success displayed by her students over the years was not reward enough, Steen received an honor that comes to few teachers. She was named Washington State's Teacher of the Year and in January 2005 she learned she was one of four finalists for the national honor of top educator in our country.
"For most teachers, the greatest recognition of his or her work comes in the form of witnessing the power of education in a student's life. So earning the respect and admiration of a national panel of educators seeking excellence in their field speaks a greater truth about Tamara's compassionate heart and tremendous skills," Terry Bergeson, Washington State Superintendent of Public Instruction, said at the time.
Steen's comment then was: "I am as I began in this profession, an idealistic Pollyanna trying to make a difference in the world."
Big goal.
But evidently not impossible for Steen, if you listen to Sandra Pasiero-Davis, superintendent of the Mabton School District.
"I met Tamara a couple of years ago when I was with ESD in Yakima and came to Mabton to give a workshop. Tamara was challenging, but embracing and that surprised me about her," said Pasiero-Davis.
"Some people challenge outsiders just because they are outsiders, but Tamara was intellectually curious, embraced new ideas, but she wasn't going to just roll over to a new idea without knowing the research and reasons. She gave honest appraisal. She is truly the ideal teacher. I'm just so proud she works for our district.
"The cherry on top of this ice cream sundae is definitely Tamara Steen," she said of Steen's role in Mabton as junior/senior high school English teacher.
As part of her responsibility as state teacher of the year, Steen was expected to travel throughout the state to carry her message of inspiration to other teachers. The Yakima Bob Hall Hyundai dealership sent her out on that mission in style by giving her a 2005 Hyundai Sonata.
"I selected Hyundai of Yakima because it was a new franchise-Korean based-that is invested heavily into education," said Bob Hall.
Hall said the gift came after he was contacted by Bergeson and members of the selection committee to see what support he might be willing to give. Hall, who has been involved in the Crystal Apple awards for education, said he thought providing a car for the teacher of the year was a good fit.
"When I met Tamara Steen, it was like a fairy tale come true," said Hall, who added that he admires what a small community like Mabton, and Steen in particular, have been able to do in the education field.
In addition to the gift of a car, Bob McConkey, owner of Dealers Auto Auction of Spokane and a colleague of Hall's, funded the fuel and travel costs for Steen, Hall said.
Steen's main worry about traveling throughout the school year, Pasiero-Davis said, was that her students might be deprived of quality teaching due to lack of continuity.
"She tried to balance travel with teaching," said Pasiero-Davis. "She has a great passion and love for the kids and she would suffer terribly while she was gone."
Steen's periodic absences from the classroom in 2005 actually gave a jump start to another teacher's career.
Pasiero-Davis said the district fell into luck when it found Judy Simerl, who was able to be almost the sole substitute for Steen in 2005, providing the continuity and excellence for which Steen had hoped. "In fact, as a result of her successful subbing for Tamara, we hired Judy as an English teacher here," said Pasiero-Davis.
Steen is a leader of teachers in the Mabton School District, according to a man who has known her for 21 years and who didn't particularly get off to a good start with her.
"Tamara was teaching here when I came to the district, and I don't know that all of our philosophies matched up exactly," said Keith Morris, principal of Mabton High School. "There were things I wanted to see happening that weren't happening, so we had some discussions about that, but we always got along. There were adjustments we both had to make.
"She's really one of the teacher leaders and she is also our literary coach, working every day from 8:15 to 10:15 a.m. with teachers and students in grades seven through 12," Morris said, adding that, as literary coach, she also visits classrooms with him.
"She helps coach all of the teachers to support them in their learning," said Morris.
"She also was one of only 20 teachers in the nation to be on the USA Today All American Teaching Team. She received $1,000 for herself and $5,000 for the school district. Tamara could say she wants all the money for her classroom, but she's willing to share it with other departments as well. That's the kind of person she is," Morris concluded.