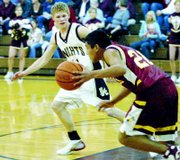 Behind two big performances from Chad Den Boer this past Friday and Saturday nights, Sunnyside Christian got two wins to improve to 7-1 in the Greater Columbia B League.
Den Boer scored 16 points and pulled down 12 boards in a 68-33 win over Klickitat last Friday.
Aaron Van de Graaf also tied for the game-high point total, dropping in 16 points, too.
The Knights shot 31-of-49 from the field, but went a mere 1-of-10 from behind the three-point arc.
Coach Dean Wagenaar said the Knights really keyed on the Vandal's J.J. Keys, who managed 14 points on the night.
"We wanted to really concentrate on him," Wagenaar said. "(Matt) Haak played outstanding defense on him."
Wagenaar said when Haak came off the floor, he had held Keys to just 8 points.
The game was never in doubt as the Knights came out hot from the beginning.
Sunnyside Christian built an 18-5 first quarter lead before improving on that in the second to take a 32-10 lead into the locker room at the intermission.
A 21-8 third period was more than enough to seal the victory as the Knights lead 53-18 after three.
For the Knights, Joel Koopmans finished in double-digits in the scoring column, dropping in 10 points.
Haak also dropped in 8 points while playing good defense.
The win set up a meeting with the LaSalle Lightning Saturday, who were coming off a win over Bickleton on Friday.
The Lightning came out fast Saturday and outscored the Knights 12-6 in the first quarter.
Wagenaar said his team became a little frustrated after shots weren't falling.
"They were on the rim and didn't go in," Wagenaar said.
That was when his team changed its defensive intensity, forced some turnovers and got transition baskets.
"It was very physical," Wagenaar said of the game.
A 19-9 Knights' run in the second quarter was enough to overcome the slow start. A 21-12 third quarter was icing on the cake as the Knights cruised to a 57-42 victory.
Three Knights were in double-figures in the scoring column, led by Den Boer, who poured in 19 points.
Aaron Van de Graaf also had another big game, dropping in 16 points. Joel Koopmans also had 16 points.
The win puts Sunnyside Christian in control of its own destiny in terms of the District playoffs.
Wagenaar said his team needs to learn to value the ball and take care of the teams they need to if they want to finish in position for a district title run.
"Every possession is going to be a battle," he said.
The Knights host DeSales Tuesday night before travelling to Riverside Christian this weekend.