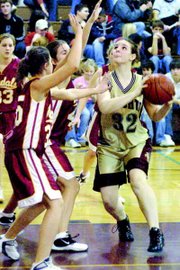 Facing the number one team from the southern division of the Greater Columbia 'B' League, the Sunnyside Christian Lady Knights made a statement by crushing Klickitat 62-12 last Friday night.
The Lady Knights came out on fire and romped to a 16-0 lead after one quarter.
"We pressed on defense," SCHS Coach Al Smeenk said. "I don't think they were prepared for it."
The SCHS defense forced Klickitat into 14 turnovers in the first quarter.
"You have to play really well to beat us at home," Smeenk said.
The second quarter held more of the same as the Knights out scored the Vandals 19-4 to take a 35-4 lead at halftime.
"We really wanted to make a statement," Smeenk explained. "We're thinking we might see them again in districts."
The Knights defense pressured the Vandal guards so they couldn't get the ball into the posts.
SCHS forced Klickitat into 32 turnovers and grabbed 38 rebounds, 18 of those offensively.
Tori Van Wingerden led the Knights with 14 points. Brittany den Hoed had 10 points and 5 rebounds, and Courtney Rice also had 10 points. Jacqui Roberts and Emma Newhouse each finished with 7 points.
On Saturday SCHS hosted LaSalle and suffered its first league loss of the year, 49-37.
"They're good," Smeenk explained. "They finished fourth in State last year and they have several good athletes. Without a doubt they're favored to go to State."
LaSalle came out quick and took a 9-2 lead over the Lady Knights. SCHS fought back to 11-9 before LaSalle pulled away with an 18-11 lead after one quarter.
"We had trouble with their full-court press," Smeenk said. "It's hard to duplicate their aggressiveness in practice."
The Lady Knights turned the ball over eight times in the first quarter and their shots just weren't falling.
LaSalle took a 31-17 lead into halftime. That's when the Lady Knights made some changes. "We were standing around too much," Smeenk said. "We were too content to just pass the ball around." The Knights also made some defensive changes.
In the third quarter the Knights started their comeback bid. They held LaSalle to only 4 points in the third period but managed to score just 11 points themselves. Still, they managed to get the lead down to 7 points to start the fourth quarter.
That's when LaSalle's Molly McGree took over, scoring 7 of her 13 points in the fourth quarter.
"We just couldn't answer back," Smeenk explained.
SCHS shot just 6-for-14 from the free throw line.
Roberts led the Lady Knights with 10 points. Van Wingerden had 8 points and den Hoed added 8 points and grabbed 5 rebounds.
"We're going to keep working and we will improve," promised Smeenk.
SCHS (7-1, 11-3) takes on DeSales tomorrow night, Jan. 24, at 6 p.m.