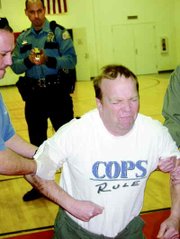 Say 'yes sir' and smile like you mean it if you are stopped for questioning by a Sunnyside police officer because all of Sunnyside's finest are now armed with tasers.
The 50,000-volt Taser X26 each officer attached to his belt this past Friday delivers 0.004 jules (amps) that not only stops a man in his tracks, but drops him to the ground.
If any officer had any doubt about what the new law enforcement tool can do, he wasn't left uninformed for long.
Every man on the Sunnyside police force felt the sting of the electricity that was shot into them during Friday's taser training session at the Sunnyside Community Center.
Sgt. Andrew Gutierrez and Ollie Hernandez, who have been carrying the tasers for about three months, were the trainers behind the trigger Friday.
The only difference between the tasering of the officers and the tasering a feisty suspect will get is that there were two men stationed on either side of the subject to support him and ease him onto a mat on the floor.
"Bones can be broken when they fall, but this is a training and we don't need any of that," said Gutierrez.
Officers also had the choice of being tasered with the two, dart-like prongs that shoot out on long wires from the taser or with alligator clips attached to their clothing. The shocking results were the same in both cases-complete loss of muscular control-but those choosing the clips avoided the penetration of the sharp prongs.
The first prongs, shot into the chest of Rem Campos, drew more than just a drop of blood, but most of the officers after him still opted for the prongs.
Police Chief Ed Radder went the alligator clip route.
"I thought it (the electrical shock) was going to be worse. But then the muscles go. If you didn't have spotters, it would be evil because you can't catch yourself. You just go down," said Radder.
"I guarantee you that anyone who gets hit with the taser once, the second time they hear you yell 'Taser, Taser, Taser', they're going to stop," Radder predicted, after his own experience was over.
Calling out the taser warning three times before using the taser is standard practice, the officers learned Friday.
Not only a warning to a combative or fleeing suspect, the three warnings alert other officers at the scene that a taser is going to be used and won't mistake it for a gun and fire what Gutierrez called "a sympathy shot".
"Tasers come in black or yellow," said Gutierrez. "We chose yellow so they won't be mistaken for a gun."
The seven-ounce X26, constructed of impact resistant, sonic-welded polymer with stainless steel shock plates, delivers a five-second charge.
Officer Jaime Prieto said he was trying to keep track of those five seconds during his experience on the mat.
"It was like a big, old body cramp. My body was numb, and during it I was thinking it's gotta be more than five seconds," said Prieto.
Darin Scott was intent on beating the taser. "I was determined to take a step...and it didn't happen," said Scott, whose body went into rigidity as soon as the prongs penetrated his back. "When it was finished, it felt like a deep, penetrating massage."
Another officer, who chose the alligator clips, had a few choice comments after he revived on the mat. Among the quotable ones, he said, "I could see lightning bolts. Never again with the alligator clips."
Being on the receiving end of the taser treatment was only part of the officers' training Friday.
Gutierrez and Hernandez gave them pointers on how to handle the X26 without shocking themselves and versed them in what injuries-such as broken bones-could result when a suspect is knocked down by a taser. They also outlined who their targets should and should not be.
"We use this only for those resisting or to prevent harm to ourselves," said Gutierrez.
He also warned the officers that, when adrenaline is running high during an incident, officers should be aware of their trigger finger.
"If you keep your finger down on the trigger and they're still dancing and you wonder why-let go!" said Gutierrez, explaining that the X26 has no automatic shut-off. As long as the officer keeps the trigger depressed, electricity continues to bombard whoever is at the end of the wires that extend from the taser.
He also warned them not to let a gloved finger get stuck in the trigger guard, thus prolonging a shock beyond what the officer intended.
"And remember, when we hit someone with a dart, we're creating a circuit," said Gutierrez, "so don't grab them between the probes or you'll take a ride."
The probes cause 99 percent incapacitation in less than a second, cause pain and can cause temporary blisters, minor skin irritation, involuntary muscle contractions (which could send a pregnant woman into early labor), critical stress, vertigo, tingling and amnesia.
Officers were advised by the two trainers to avoid hits to the head, groins of men, women's breasts and eyes, which could cause serious damage.
Last week at the Mid-Valley Mall in Sunnyside a suspect in a Grandview armed robbery was taken down with a taser hit while attempting to elude Sunnyside officers. He was hit in the head and groin. "That's what can happen when they run," said Gutierrez.
So, the word is out-show a little respect and tread lightly around those fellows with the new yellow tools on their belt.
Oh-and how far do those wires on the taser reach? Guess that's something that can be answered by the next rambunctious outlaw who tries to run from the police.