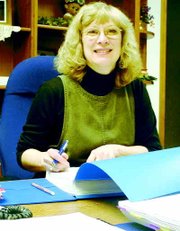 Carol Carter has yet to meet a number that she doesn't like.
"I like taking the jigsaw puzzle and figuring it out," she said of balancing debits and credits as financial officer and treasurer for the Port of Sunnyside.
And she's good at it, too.
Carter recently received the Certificate of Achievement for excellence in financial reporting, given by the Government Finance Officers Association.
It marks the seventh consecutive year the Port has received the honor, which is the highest form of recognition in the area of governmental accounting and financial reporting.
"It's a feather in our cap and a tribute to the accomplishment and excellence by the Port staff over the years," she said of the awards.
Carter credits interim financial officer Bud Schatz for helping to lay the groundwork for her arrival at the Port this past July and fellow co-workers for their help in submitting the Port's application for consideration of the recent honor.
After 20 years as bookkeeper for public hospitals on the west side of the state, and some time traveling in retirement, Carter and husband Jim have come back home to the Lower Valley and their hometown of Bickleton.
"Wherever we lived, a part of us always felt like Bickleton was home," she said. Carol graduated in 1968 from Bickleton High School and Jim is a 1966 alum.
They make their home in Bickleton, and Carter said she doesn't mind the 35-mile commute each way to the Port office.
"I love it!" she said. "We have a lot of family and friends there. It's refreshing."
Carter said her background as a treasurer and bookkeeper for public taxing districts-she previously worked for Snohomish County Public Hospital #3 and Whidbey General Hospital-suited her well for the Port position.
"There are differences in government accounting," she said. Carter noted, for example, that fund accounting is one of the key elements of her job.
"Anytime you have bonds or are dealing with taxpayer money it's a big difference than accounting in the private sector," she said.
Another difference is state auditing.
"Every year we know there will be an audit and we prepare for it," she said. State or federal audits are rarer in private business, she added.
Government accounting also means the tax district, whether it's a hospital or a port, pays out in warrants that must be approved by an elected council or commission.
While accounting for a public hospital meant tracking lots of accounts receivables for patients, Carter said keeping the books for the Port is more focused on capital improvement funds and tracking the receipt and disbursement of grant money.
Though Carter previously only knew of the Port because of the highway exit sign, she has seen its work first hand.
"The Port is very much an asset to the community in the way it brings jobs," said Carter.
Ask Port officials, and they'll tell you Carter is an asset, as well.
"We are lucky to have her," Port Manager Amber Hansen said of Carter. "She knows what she's doing, and has made a significant streamlining effort in our day to day financial operations."
Now about that jigsaw puzzle, Carter said it's her most and least favorite part of the treasurer's job.
"It is most rewarding when you get all the numbers to come out just right, and it's really frustrating when you can't!"
Based on her 20-year plus career, it's a safe bet Carter will find that missing piece to put the puzzle together.