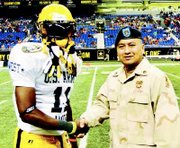 by Dona Fair
SAN ANTONIO - When the son of a Grandview couple entered the Alamodome for the Army-sponsored "All-American" Bowl high school all-star game, he received a huge heroes' welcome from the crowd of more than 31,000 fans.
But he wasn't sporting a football uniform and running onto the field to begin the game. Army Reserves Staff Sgt. Walter J. Castilleja Jr, son of Walter and Mary Castilleja of Grandview, was one of more than 70 heroes who had earned either the Silver Star, Bronze Star, Purple Heart or Army Commendation Medal for their efforts in Operation Iraqi Freedom, Operation Enduring Freedom or for assistance after Hurricane Katrina who were honored during pre-game activities. Each soldier-hero was matched with one of the players representing the East and West squads prior to kick-off.
The theme of this year's game was "Leadership and Teamwork in Action."
Over the past year, the heroes have participated in various military deployments and received various medals for their distinguished service to our country.
"I am being honored at the All Army American Bowl for my service to my country and unit," said the 1985 graduate of Grandview High School.
"I am a recipient of the Purple Heart, which I attained during my service in Iraq."
Castilleja was in San Antonio to be honored and to represent the Army in what has become one of the largest events of its kind in high school sports.
"This week has allowed me to meet some of the young football athletes and talk to fellow war veterans," he said.
Being able to represent the Army in this way, said Castilleja, only brings home the importance for young people to serve in the military today.
"It is important to serve so my children can continue to live in a free society," he said.
Castilleja is assigned to the 737th Transportation Company at the Yakima Training Center, where he serves as a transport squad leader. Just like the young football athletes he encountered at the All American Bowl, he said he hopes to continue to score many more touchdowns in the future during his military career.