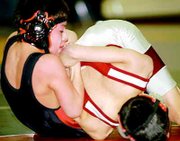 MOXEE - Posting a 17-11 record on the day in the 28 bouts it competed, the Sunnyside High School wrestling team came away with a pair of non-league victories over Eisenhower and Davis last Saturday afternoon.
The double-dual meet was staged at East Valley High School in Moxee. The twin wins improved Sunnyside's dual meet record to 5-2 on the season.
In its opener against the Ike Cadets, Sunnyside won eight matches and lost six enroute to posting a 45-25 victory. The Grizzlies won nine matches and lost only five in their 51-26 win over the Davis Pirates.
Half of the 14-man Sunnyside wrestling team came away from Saturday's double-dual competition with two victories-Isaac Romero at 105 lbs., Ricardo Rivera at 114 lbs., J.T. Gonzalez at 121 lbs., Steve Sanchez at 127 lbs., Michael Graham at 154 lbs., James Van Wingerden at 173 lbs. and Angelo Salazar at 277 lbs.
The most impressive of the wins was notched by Sunnyside's mighty mite 105-pounder, Romero. After opening the day's activities by pinning Ike's Ricky Sandize in the opening round of their match, Romero decisioned what many consider to be Davis's top wrestler, Ivan Carbajal, 11-3.
"It was the best match of the day," said George Paulus, now in his 19th year as the head coach of the SHS wrestling team.
The two grapplers were evenly matched through the first period and midway through the second round, fighting to a 3-3 stand-off. Down the stretch, however, Romero came up with a third round reversal and stuck Carbajal on his back twice for near fall points in pulling away with the 11-3 victory.
Paulus said he credits Romero's superior conditioning in scoring the decision against the highly ranked 4A wrestler.
Sanchez, at 127 lbs., also left Moxee last Saturday with some distinctive memories. Enroute to scoring a pair of 18-1 technical falls over Eisenhower's Justin Despain and Davis's Kido Espinoza, Sanchez set two Sunnyside High School single season records. He bested the former mark of John Kilian for most near falls in a season, running his near fall record to 55 on the season, which eclipsed Kilian's record of 51 near falls.
"And we still have several matches remaining," said Paulus, noting that Sanchez could set the bar rather high for anyone else to come along and break that single season record.
The two technical fall victories Sanchez posted Saturday also is a single season school record. He now has nine technical falls on the season, which is one better than the former record shared by four former Sunnyside wrestlers.
Rivera, in winning his two 114-lb. matches, was handed a forfeit by Eisenhower before pinning the Pirates' Hector Lopez midway through the opening round of their bout.
Gonzalez, at 121 lbs., also picked up a forfeit against Ike. And like Rivera, he claimed a pin against his Davis foe, Zach Nalley. Gonzalez scored the fall a minute and seven seconds into the opening round.
Graham, in winning his two 154-lb. bouts for Sunnyside, did so in impressive fashion. First, he pinned the Cadets' Jesus Acevedo 10 seconds into the third period after forging a 12-3 lead. Graham then made short work of Davis's Alex Bravo, scoring a fall midway through the first round.
Sunnyside's 173-pounder, Van Wingerden, was awarded a forfeit against Davis, after he pinned Ike's Michael Cady with 10 seconds remaining in the second period of their match.
The last of the dual winners for the Grizzlies, the heavyweight Salazar, opened Saturday's competitions by pinning Eisenhower's Rigo Valle at the 1:03 mark. Salazar earned his second win on the day when Davis failed to field a wrestler in the 277-lb. weight class.
Three of the Grizzly grapplers came away with 1-1 marks Saturday-Tomas Pena, Adolfo Blanco and Joey Tristan.
Pena, at 132 lbs., took the lead at 9-3 against the Cadets' Edwin Artega before pinning the Ike wrestler with just one second remaining in the bout. In his second match of the day, Pena suffered a first round pin against the Pirates' Tony Yocum.
Blanco was upended 10-3 by Ike's Justin Craft in their 147-lb. match, but Blanco rebounded to pin Cody Wolf of Davis with 10 seconds remaining in their bout.
Tristan, wrestling at 162 lbs. for Sunnyside, sustained a narrow 7-6 loss to Eisenhower's Zach Taylor. Tristan recovered, though, to pin the Pirates' Santos Larios early on in the first round.
Besides the Sunnyside varsity wrestling at East Valley High School on Saturday, the Grizzlies were represented at the Mid-Valley Classic in Mabton by their JV team. Two of Sunnyside's junior varsity grapplers ended up placing at the small school varsity competition-Victor Reyes, who finished third at 125 lbs., and Eric Mejia, fourth at 119 lbs.
The Sunnyside varsity is scheduled to host the East Valley Red Devils tonight (Tuesday), with the non-league match scheduled to start at 7 p.m. Prior to that on the Sunnyside mats, at 5 p.m., Prosser will take on the Red Devils.