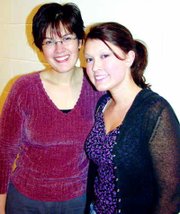 GRANDVIEW - A self-described tomboy, Grandview High School senior Jessika Babcock returned this past Sunday from the Washington State Junior Miss Pageant in Pullman.
Babcock decided to try out for the Grandview Junior Miss event last spring after her best friend, Jody Davis, was crowned 2004 Junior Miss for Grandview.
"I didn't think I had a chance to win, but they had free pizza so I tried out," she laughed.
Turned out Babcock had more than just a chance to win, and took home the Grandview Junior Miss title last April.
This past week she was in Pullman, representing Grandview in the statewide Junior Miss event.
Babcock didn't win at state, but didn't seem to mind.
"We were all strangers when we arrived and we were friends by the time we left," she said of the week she spent with the 28 other Junior Miss representatives.
Contestants at the local, state and national level are judged by their scholastic achievements, fitness, self expression and a talent.
Past national Junior Miss winners include Diane Sawyer, co-host of ABC's "Good Morning America," and Debra Messing, co-star of NBC's "Will & Grace."
Babcock's mother, Joddi-Jay, pointed out that Junior Miss is not a beauty pageant.
"They don't try to mold you into something you're not," she explained. "They encourage the girls to be true to who they are."
Jessika said the time with the other girls in Pullman gave her courage and confidence to pursue her goals.
"At first I was really nervous about going to college, but when I saw the other girls I learned I wasn't the only one with goals and ambitions," she recalled. "It gave me the confidence to be what I want to be."
Further giving her confidence were official Junior Miss visits with business and WSU leaders.
"That was the first time I had seen leadership in action," Babcock said. "It taught me that leaders have to have character and dedication. But they aren't afraid to ask for help. They're good team builders and plan for the future."
Babcock will attend college this fall at Vanguard University in Costa Mesa, Calif., where she plans to major in journalism or education.
One meeting in particular during the state Junior Miss festivities continues to stay with her.
"I met the very first Washington Junior Miss (Vivan Smith, who garnered the prize in 1959)," said Babcock. "She said that being Junior Miss is more than a contest, it's a leadership role. She encouraged us to be leaders."
The goodwill present at the state event extended to all of the contestants, said Babcock.
"There wasn't the intense competition like I thought there might be," she recalled. "All the contestants were just very real people, down to earth, very open. They really cared about each other."
Despite the evening gown trappings of being a Junior Miss, Babcock, dressed in jeans, said she's still a tomboy at heart.
But being Junior Miss for Grandview has taught her a thing or two about looking the part.
"I can wear high heels now and not fall on my face," she giggled. "And I'm learning how to put on make-up."
So, what about those other pizza-loving tomboys out there, would she recommend they give Junior Miss a try?
"I would definitely tell them to just do it. You're not going to get another opportunity to do something like this. If you don't, you'll regret what might have been," Babcock said. "But don't do it if you just want to be popular, because you'll be disappointed. It's a lot of hard work and commitment."