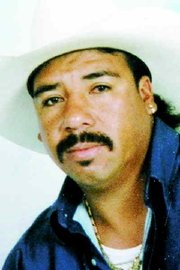 TOPPENISH - After issuing an all-points bulletin early Sunday morning for Roberto Cisneros Saavedra, 34, of Sunnyside following a fatal shooting at a Toppenish tavern, Toppenish police continue to search for Saavedra, who is suspected of killing Jose Luis Fragoso Zavala, 30, of Yakima.
The shooting in the Double D Tavern, a popular Saturday night dancing spot in downtown Toppenish, occurred just eight minutes into Sunday morning in front of numerous witnesses as the victim was being served a beer.
According to Sgt. Adam Diaz of the Toppenish Police Department, Sunnyside and Grandview Police Departments have been helpful in locating Saavedra's girlfriend in Sunnyside, with whom he has had a live-in relationship for 12 or 13 years.
"We interviewed the girlfriend of the suspect at the Sunnyside Police Department Sunday morning and she and another witness have provided us with a lot of information," said Diaz.
Diaz said the Grandview Police Department was also helpful in putting them in touch with Saavedra's employer, Kenneth Castle Farms in Grandview.
"He (Saavedra) has not returned to work there," said Diaz, who speculated that Saavedra may not be a United States citizen, but "is pretty well established, working, purchasing things using his own name and buying licenses...typical of someone who has a green card."
That speculation has led Diaz to consider that Saavedra may have fled the country, but the search in the county continues.
According to Sgt. Diaz, Zavala, who used Fragoso as his last name, was shot in the cheek.
"The bartender tried to intervene, but he was shot in the cheek bone and the bullet went right into the brain and severed the brain stem," said Diaz, who added that he has witnessed the results of many gang shootings in Toppenish but had never seen anything like this outcome. "It was unusual."
Diaz said, at this point, the motive for the shooting appears to be a cell phone that was lost on the dance floor.
"Apparently, he (the shooter) thought Fragoso had it and he was agitated. But it's kind of hazy. We have the cell phone. It was dropped off at Fragoso's girlfriend's house by someone, and she gave it to us. We want to talk to the person who dropped the cell phone off. We want to see what role he has in this," said Diaz.
About an hour after the shooting, a resident living near a canal on the south side of Toppenish reported to police that a man was seen parking a 1998 Chevrolet Silverado on the canal bank, leaving it and running across a field.
"That vehicle was registered to Saavedra," said Diaz. "He was running across the field toward SR 22, which comes off Highway 97. We don't know if he had someone waiting for him there or not."