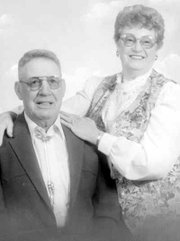 Jay and Kay (Katherine) Cole of Wellton, Arizona plan to celebrate their 60th wedding anniversary with a riverboat dinner cruise this summer.
The Coles resided in the Sunnyside area from 1946 to 1981. He worked for Bi-County Farms in the Horse Heaven until that company dispersed and he turned to wheat farming in Mabton, which he did for 10 years.
They were married Jan. 18, 1946 at Polsen, Montana. They have one daughter and a son-in-law, Chris and Gale Owsley of Sunnyside, who will host the celebration.
The Coles' grandchildren are Vicki Becker of Yakima and Guy Becker and his wife, Susie, of Seattle. Their two great-grandchildren are Kayla Ransier of Yakima and Jessyca Kelting of Yakima, whose son Elijah is their only great-great-grandchild.
In addition, the Coles have two step-grandchildren, Jason Owsley stationed in Iraq and his wife Brandi of North Carolina, and Gale Owsley Jr. and his wife, Sarah, and their children, Shawna, Taylor, Kacey, Carolyn and Paris, all of Deerfield, Illinois.
More like this story