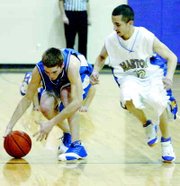 MABTON - The Mabton boys basketball team hosted the LaSalle Lightning, winning the game 59-50 to pull even with Sunnyside Christian for first place in the Yakima Valley Division of the Greater Columbia 'B' League.
Playing the Lightning for the third time this season, Mabton came out hard and out scored LaSalle 19-10 in the first quarter.
"I was happy with our first quarter and a half," Mabton Coach Brock Ledgerwood said. "We led by nine after the first quarter and stretched that to 15 early in the second quarter. After that we got complacent on defense and allowed them to get back to within nine points at halftime."
In the third, LaSalle mounted a strong comeback, out scoring Mabton 15-12 in the quarter to cut Mabton's lead to 6 points.
In the fourth quarter the Vikings settled down and held off every charge at the lead. In the end, Mabton out scored LaSalle 12-9 in the final quarter to secure the win.
"It's always tough to beat a team three times in a row," Ledgerwood said. "I was happy with our ability to change things up defensively. We were able to do different things with different lineup combinations and had success with it."
Mabton shot 44 percent from the field and was 6-for-15 from the 3-point arc. The Vikings out rebounded LaSalle 21 to 18 and caused 15 turnovers for the Lightning.
Andy Rodriguez led the Vikings with 22 points, 9 rebounds and 4 assists. Alex Zavala added 16 points for Mabton.
"Andy was very consistent throughout," Ledgerwood added. "His leadership on the floor was outstanding when things were down and we needed a shot of energy."
Ledgerwood said his team controls its playoff destiny. Mabton holds a 4-1/2 game lead over LaSalle with four games left in the season.
"It is now up to us to determine if we want to win a league title or settle for the second or third seeds in districts," Ledgerwood explained. "These next two weeks of games are extremely important to gain optimal positioning into the District tournament."
Mabton (7-1, 12-3) plays Yakama Tribal in an away game Jan. 27.