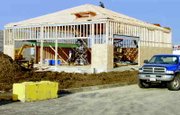 A 3,000 square-foot retail building topped the list of most valuable properties for which a building permit was issued in December in Sunnyside.
The permit for the office/banks/professional building, valued at $450,000, was issued to Baker Construction and Development, Inc. of Spokane, and will be constructed at 2690 Yakima Valley Highway.
The city's building department also issued a plumbing permit for the construction project.
According to the building division, the building will contain retail space, but there's no word as to the tenant at this time.
The city collected $4,878 in fees for the project.
Yakima Valley Highway will also be the site of a new financial and realtor office.
The 2,850 square-foot building will be constructed at 2590 Yakima Valley Highway.
The new office building is valued at $50,000. The city collected $1,066 in fees for the project.
The Washington State Migrant Council's building located at 105 S. 6th St. will receive a facelift, according to building permits issued in December.
The project is valued at $21,826, with the city collecting fees of $580 for the remodelling job.
Only one single-family home permit was issued in the month of December. The permit was issued to Adolfo and Candy Cisneros, who are constructing a new home at 329 NW Crescent Ave. The home will contain 4,592 square feet of living space and is valued at $292,000. The city collected $864 in fees for the permit.
A four-plex is also under construction in Sunnyside at 504 E. Harrison Ave. The building is valued at $200,000, with the city collecting $2,058 in fees for the new construction.
In total, the city issued 44 permits in December. Of those permits issued, 27 were building permits, nine were mechanical permits and eight were plumbing permits. Four of thoses permits were non-building sign permits.
Fourteen of the building permits issued were for remodeling jobs.
With the permits issued, the Sunnyside Building Division collected a total of $8,227 in fees, the majority of which came from building permits.
During December city building inspectors were busy. Inspectors made 330 trips to inspect buildings throughout the city. The majority of those building inspections came during the construction phase, where inspectors made 202 inspections.
The total value of all the new construction in the city of Sunnyside for December is $1.08 million.
Total square footage for new building construction is 19,821 square feet for December.
That number is down slightly from warmer months, which is likely due to the usual winter slow down associated with the construction industry.