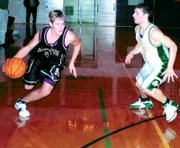 For the first time in a long time, Sunnyside Christian senior Chad Den Boer didn't lead his team in the scoring column - Aaron Van de Graaf did. The Knights knocked off Desales 55-32.
For Sunnyside Christian, the 6-foot junior poured in a game-high 20 points, nine of which came in the first quarter.
"He just played a good all-around game," Sunnyside Christian Coach Dean Wagenaar said of Van de Graaf.
Den Boer was a close second in the scoring column, accounting for 19 of his team's points.
"It was a game we actually won," said Wagenaar, who noted in recent games his team hasn't come out with intensity and has merely been ahead at the end of games, rather than playing hard and earning those victories.
Wagenaar described the play of the Knights as "very proficient" in a game in which Sunnyside Christian never trailed.
The Knights built a 27-15 halftime lead before DeSales cut the lead to 27-19 early in the third quarter.
But a 17-2 run to close the period shut the door on any potential comeback by DeSales.
Good defense also ruled the day in the non-leauge victory, Wagenaar said.
"I thought our kids did a good job of making their shots very difficult," he said.
He said his players did a good job being physical inside and coming up with defensive rebounds to limit DeSales to one shot each trip down the floor.
"They were pretty big and strong inside," Wagenaar said of DeSales.
Good shooting also helped the Knights. Sunnyside Christian connected on 18-of-29 shots from the field, and hit 4-of-12 from behind the three-point line.
The Knights also hit almost every free throw, missing just one to go 7-of-8 from the stripe.
To go along with his point total, Den Boer also led his team in rebounds, pulling down six boards on the evening. He also dished out three assists.
Brandon De Vries also contributed to his team's cause, although not in the scoring column. De Vries led his team with two blocks on the night. He also gathered three rebounds and handed out three assists.
Matt Haak also added to his team's rebound total, collecting three, and swiping two steals.
Wagenaar said he was pleased with the performance overall.
"Maybe this is the start of something important here," he said, noting that his team has just five games left on its regular season schedule.
The Knights face Riverside Christian in Yakima this Friday night. Wagenaar said since the Crusaders opened their new gym three years ago, his team hasn't been able to manage a win there.
In fact, last year the Knights' only loss came at the hands of the Crusaders in their new digs.
The Knights (7-1, 13-2) will then travel to Trout Lake/Glennwood Saturday night for their second league game of the weekend.