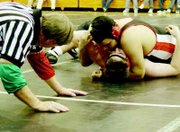 Winners of 11 of 14 matches last night, the Sunnyside High School wrestling team throttled the East Valley Red Devils, 58-15. The non-league victory boosted the Grizzlies' overall dual meet record to 6-2.
Sunnyside closes out its dual meet schedule this Thursday at home against the West Valley Rams. The Grizzlies will then begin postseason action, starting this coming Saturday at the league tournament that will determine which JV wrestlers will get to advance to the Sub-Regional competition.
Tuesday evening's non-league encounter with East Valley was anti-climactic for the most part, that is until the final two wrestlers took to the mat for the 14th and last bout of the night. The match-up, at 127 lbs., featured Sunnyside's Steve Sanchez-the reigning 119-lb. 3A State champ-and East Valley's Kellen Hopkins-who brought a glowing 24-0 record into the Grizzly gym.
With a packed house on the edge of their seats, Sanchez forged a 6-2 first round lead on the highly regarded Red Devil grappler. Many in the Grizzly house actually thought Sanchez had pinned Hopkins that period when he rolled the Red Devil to his back, but referee Mike Aldridge didn't see it that way, instead just rewarding Sanchez with near fall points.
Sanchez quickly extended his lead when both wrestlers started in the neutral position the second round, scoring a 2-point takedown. Hopkins fought back with a reversal, but when Sanchez managed an escape, the Grizzly was up convincingly, 9-4.
All seemed fine and well heading into the third period, but this is where things started to get fuzzy, at least from a spectator's point of view. Sanchez, electing the down position to start the final round, was dinged with a 2-point near fall by Aldridge when Sanchez briefly exposed his back to the mat on an escape attempt. The near fall rule calls for a wrestler's back to be exposed to the mat for a minimum of two seconds, "...but it wasn't even close to that," said Sunnyside Coach George Paulus, agreeing with the view of most in attendance last night.
The action remained hot-and-furious, with Hopkins attempting to turn Sanchez while the Grizzly was working profusely to escape with one sit-out move after another. Unexplicably, though, Aldridge deemed Sanchez was attempting to stall, eventually docking him two penalty points, despite heavy booing from the partisan Grizzly crowd. When the final buzzer did sound, with the Sunnyside faithful collectively breathing a sigh of relief, Sanchez found himself up by a 9-8 count.
Before deeming Sanchez the winner, however, at least to the uninformed present last night, it appeared Aldridge wasn't in agreement with the scoreboard when he vehemently questioned officials at the scorers table. Apparently unable to make a valid case that Hopkins had scored more points in the match, Aldridge eventually docked Sunnyside one team point when he allegedly saw Sanchez throw his headgear to the floor after the bout.
"I don't know what that was about," said Paulus.
"But it did get really ugly last night," he added, noting that Sunnyside officials are planning to contact the WIAA to seek an explanation on the actions of the referee.
Besides Sanchez scoring a victory for Sunnyside, last night's other Grizzly winners included Tomas Pena at 132 lbs., a 17-8 winner over Josh Cruz; Zeke Galvan at 142 lbs., who pinned Jesse Schindler; Adolfo Blanco at 147 lbs., who pinned Duncan Crollard; Michael Graham at 154 lbs., who pinned Josh Stahl; Aaron Blanco at 191 lbs., who pinned Matt Orthman; Kyle Tyler at 217 lbs., a winner by forfeit; Angelo Salazar at 277 lbs., who pinned Ben Finch; Omar Olivarez at 105 lbs., a winner by forfeit; Isaac Romero at 114 lbs., a forfeit winner; and J.T. Gonzalez at 121 lbs., who decisioned Chris Logozzo 14-3.