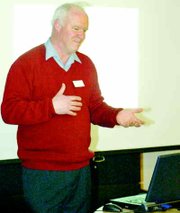 Most people think of wine grapes as only making wine but a professor at Heritage College is thinking differently.
Dr. Eric Leber, an associate dean of arts and sciences and a professor of chemistry at Heritage University, told the Sunnyside Daybreak Rotary Club this morning of the products he has been able to make from the waste of wine grapes.
It started when he asked his students in his organic chemistry class if they wanted to study traditional material or go out into the field and find something to study.
"They didn't take very long to decide they wanted to go out into the field," Leber said.
At first they went to orchards and other farms before settling on vineyards. What they have found out is astonishing.
Leber showed the Rotarians a bottle of bio-diesel his class made of grape seeds. He said his fuel could run any diesel engine but doesn't perform as well in gas engines. It really isn't feasible right now, he said. It would cost around $15 a gallon for the grape bio-diesel.
It could be added as an additive, though. Leber said his tests have yielded results that show it would make the engine run cooler, improve efficiency and performance, and cut down on wear.
He also told the club about the pellets he made by using a press cake on the seeds. The pellets he made have 1.5 times more heating value than wood pellets and could be used to heat homes. The pellets could also be ground up into a flour and used in cooking, too.
Leber said two tablespoons of his grape seed flour increase the anti-oxidants 3,000 times.
Other products he has made from grape seeds are soaps, plastics, leather and wood conditioners and anti-oxidant rich skin creams and cosmetics.
From grape skins he has made paper, which he calls graper, edible food wraps and ink. He says this ink gets darker over time and would be great for archival documents.
Leber admits mass production is a long way off but he has had some interest but no commitments so far.
Leber says it's just a matter of time before this takes off. "There is just tremendous value in this," he said.