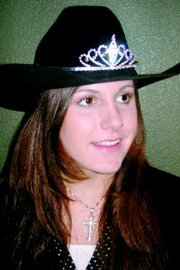 Sunnyside High School junior Rachelle Durfey is the 2005-06 Queen for the Washington State Quarter Horse Youth Association.
Durfey, the daughter of Ted and Pam Durfey will receive a $250 scholarship from the youth association.
Her responsibilities as queen included presenting awards at the 2005 Region 1 quarter horse show in Redmond, Ore., and the 2005 quarter horse congress.
"It's taught me to relate better to people and to be open minded," Durfey said of her reign as queen. She noted that her responsibilities also include visiting with 4-H youth about raising quarter horses.
She said she was drawn to show quarter horses because of their steady behavior.
"Some people joke that they're called quarter horses because they can only run a quarter-of-a-mile," Durfey smiled. "But they are wonderful horses. They're very calm, easy going, they give you their whole heart."
Durfey shows her horse, Charlie, around the country, including a quarter horse show this week in Arizona.
"You have to miss a lot of social events at school sometimes," she said of the dedication required to train and show quarter horses.
Charlie is stabled with Durfey's trainers, Mike and May Edwards of Monroe. Durfey said she tries to spend at least two weekends a month, and sometimes more, at the Edwards' home to be with her horse.
"Some people go on vacation, I go see my horse," she said. "It's an escape for me."
But Durfey's life is far more than quarter horses.
Besides her equestrian activities, she is a member of the National Honor Society, Key Club, FFA and serves as ASB Treasurer at Sunnyside High School.
Durfey is a Scholar Athlete and represented her high school at the State Championships in swimming.
In 2005, she participated in the Washington Cultural Exchange Swim Team program and visited Hong Kong and China. She has also completed two dives in the Pacific Ocean after taking an introduction to scuba diving class.
In addition, Durfey is a member of the Mid-Columbia Quarter Horse Association.
So how does she keep track of all her activities, while keeping a perspective on life?
"I keep a planner and make priorities," she said, noting that family, church, school and, of course, horse riding are at the top of her list.
Durfey, who plans to study medicine after graduating from Sunnyside, said her years in 4-H and now as queen of the youth quarter horse association have taught her to make the most of her time.
And it sounds like that trend, including participation in the quarter horse association, will continue following her reign.
"Oh, there are plenty of ways to stay involved (in the quarter horse association)," she noted. "There is the youth group, and it has positions available like reporter and president."