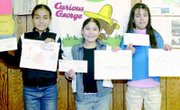 The Fred Hutchinson Cancer Research Center based in Seattle and the Center for Hispanic Health Promotion located in Sunnyside developed a project to help promote nutrition and physical activity among fourth grade students in the Lower Yakima Valley.
Fourth-grade students were invited to enter a poster contest in which they were asked to draw a picture of what they learned from the presentation. The 12 best posters are to be made into a 2006 calendar. Local businesses sponsored the calendar by purchasing advertisement space in the calendar.
More than 200 entries were received by the staff at the Fred Hutchinson Cancer Research Center in Seattle. The staff were the judges.
There were six winners from Sunnyside and Outlook. Edith Noriega, Monique Gil and Marila Hernandez were the students from Sunnyside. They attend Washington Elementary School and got involved in the project through the school's 21st Century program.
Outlook Elementary students Alfonso Ramirez, Erika Gutierrez and Magdalena Verduzco were also picked to have their posters on the calendar.
The winners received a check for $25 and the honor of their posters gracing the calendar. The calendar will be coming out the second week of February and can be picked up at elementary schools or area businesses that sponsored the calendar.
"It's been a success," Genoveva Ibarra, program coordinator for the Fred Hutchinson Cancer Research Center, said. "We're planning on doing more activities with the schools here in the Valley to promote nutrition and physical activity."