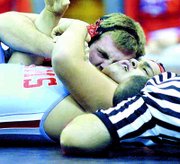 After splitting the first two matches of the night and falling behind 6-4 to visiting West Valley, the Sunnyside High School wrestling team ran off six consecutive victories enroute to scoring a 34-25 win over the Rams Thursday evening.
The victory came in the Grizzlies' last dual meet of the season. The win boosted Sunnyside's Mid-Valley League record to 4-2, leaving the Grizzlies tied for runner-up honors in conference play with Hanford and Selah. Ellensburg, after dismantling Selah last night by a 40-15 score, finished atop the league standings with a perfect 6-0 record.
The road to the Tacoma Dome for the 3A State championships begins this Saturday for Sunnyside, at the league's JV qualifier tournament in Prosser at 10 a.m., where it will be determined which junior varsity wrestlers are good enough to compete at Sub-Regionals. The Grizzlies will host the Sub-Regional tourney on Friday and Saturday, Feb. 3-4, with action to begin at 2 p.m. the first day and at noon the second day. The Regional tournament is slated to be held in Wapato on Saturday, Feb. 11, with the State meet scheduled for Feb. 17-18.
In knocking off West Valley (1-5) last night, the Grizzlies only scored two pins, each worth six points in the team scoring. Both pins were big for Sunnyside, and the first came from one of the unlikeliest sources on the team-135-lb. underclassman Baltazar Avalos.
"With a freshman out there, you're never sure what's going to happen," said Sunnyside Coach George Paulus.
With his team ahead 13-6, basically clinging to a seven-point lead after having wrestled the five lowest weight class bouts-Sunnyside's strength-Avalos methodically and unspectacularly built a 14-1 lead on West Valley's Hunter Olden before catching the Ram off-guard midway through the second round. In a move that surprised most in attendance, maybe even Avalos, himself, the Grizzly grappler reversed Olden on to his back and stacked him, scoring a fall at the 3:32 mark.
The pin, upping Sunnyside's lead to 19-6, gave the Grizzlies some breathing room.
The second of the falls claimed by Sunnyside occurred after West Valley had drawn to within 28-22, thanks to four straight Ram wins in the 152, 160, 171 and 189-lb. bouts. And strangely, the pin came from another of Sunnyside's less heralded wrestlers this season, 215-pounder Kyle Tyler.
The senior, struggling with knee injuries the past two seasons and getting very little mat time, and whom Paulus said has been battling from behind all season long, opted to play it close to the vest against Nester Gonzalez. Neither wrestler was able to score a takedown in the opening period, thanks to cautious moves on the part of both grapplers. When the decision was made to start the second round again in the neutral position, nearly everyone at that point expected a low scoring affair.
Tyler gained the upper hand, however, when he maneuvered Gonzalez into an off-balanced position, taking advantage and scoring a takedown. Moments later, the Ram wrestler took a feeble shot at gaining the upper hand, and this time Tyler made him pay dearly, cradling him onto his back for the fall.
The pin pushed Sunnyside's lead out to 34-22, which guaranteed the Grizzlies a victory, as only one match remained.
"Kyle (Tyler) came up big for us," said Paulus.
In assessing how his team was able to build only a 13-6 lead through the five lower weights, which have served as Sunnyside's marquee match-ups this season, Paulus said West Valley's game plan was obvious.
"It was apparent the West Valley kids were coached to just get through those first four or five matches without giving up pins or technical falls," Paulus said.
And by wrestling conservatively, not exposing themselves to giving up big points, the Rams executed brilliantly.
The one exception during that stretch was the 112-lb. match. West Valley's top horse-Deven Stelter-Moorman-let loose with all his moves and it paid off for the Ram. He ended up making short work of Trevor Gaskin-Herrera, a Sunnyside fill-in, pinning the Grizzly 30 seconds into the second round. Herrera was pressed into duty when Sunnyside's stalwart 112-pounder, Ricardo Rivera, was deemed unable to go because of the flu.
Sunnyside got its lightweight victories from Isaac Romero at 103 lbs., a 12-3 winner over Sal O'Brien; J.T. Gonzalez at 119 lbs., a 4-0 winner over Tim Cruise; Steve Sanchez at 125 lbs., who decisioned Nick Hennegan by a 6-2 score; and from Tomas Pena at 130 lbs., who edged Dan Green 9-3.
Also scoring victories for Sunnyside last night were Zeke Galvan at 140 lbs., an 11-0 major decision winner over Nick Clark; and Adolfo Blanco at 145 lbs., who rallied in the closing seconds of the match to extend his lead to 20-5 over Jordan Packard, which gave the Grizzlies five team points via Blanco's technical fall.
Although Michael Graham and Joey Tristan dropped their 152 and 160-lb. bouts to West Valley, Paulus credited both grapplers with minimizing the damage.
Graham, at 152 lbs., was clearly over-matched in his bout against highly regarded Mark Lagerquist, yet the Grizzly wrestler staved off two pin attempts and ended up losing by just a 9-1 score.
"Michael (Graham) did a good job of stopping everything the kid was trying to do," said Paulus.
Tristan, too, could have folded the tent against Eddie Reeves, after the Ram opened the bout in dominating fashion. The Grizzly summoned up a second wind midway through, however, and made a match of it, only losing by an 8-3 score.