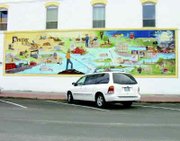 PROSSER - Coming off what the Prosser Economic Development Association (EDA) calls an exciting 2005, a variety of projects look to build on that excitement and success this year.
In September, Melissa Ellis began her tenure in a new position to coordinate volunteers throughout the city and to manage the city's volunteer needs.
The position is funded by AmeriCorps, which provided $15,000 on top of $5,000 brought in by the EDA. Ellis, in the position will build a volunteer database to recruit, train and mentor volunteers.
Ellis's position is just the tip of the iceberg for new programs in this Lower Valley city.
Beautification of Prosser
In October, the EDA applied for and received a $268,000 grant from the Transportation Enhancement Program - a grant program which is part of the Washington State Department of Transportation - to improve Horse Heaven Vista, along State Highway 221, near Prosser.
"Collaboration, timing and community support is what has driven this project," said Deb Heintz, Executive Director of the EDA in a release about the project.
The property has been owned by Benton County since the 1960s, and the grant came as a result of collaboration of several entities in Prosser and Benton County.
Benton County added another $32,000 to make the total an even $300,000, Heintz said.
Though the grant hasn't been officially announced, word is expected in early February.
The project was one of 15 similar projects in Benton, Franklin and Walla Walla Counties for which groups applied. The amount given out for the projects totaled $1.4 million.
The Horse Heaven Vista upgrade will include landscaping and overall beautification, and is scheduled to begin in the spring, according to Heintz.
Heintz said a study indicated that an average of 77 cars a day entered the site, and that wasn't even during the summer months.
Specific improvements to the area will include paving the parking area, a possible sign with the location of wineries in Prosser and a telescope so visitors can look down at the Yakima Valley.
The grant didn't come out of the blue for the EDA, which organized a clean-up of the viewpoint in April last year. According to the EDA more than 90 Prosser residents showed up to give the viewpoint what the group called "a little TLC."
Volunteers participated in garbage pick-up, repair to picnic areas, trimming of weeds and repair of potholes in the parking lot.
Heintz said the area is one of the most scenic entrances into Prosser and bus loads of international wine buyers often enter the city that way, and she wants it to be attractive as tourists enter the area.
Along with Horse Heaven Vista, the downtown area of Prosser has seen an improvement in overall aesthetic beauty.
The city's bicentennial mural received a facelift. The mural, which was originally painted in 1976 to commemorate America's 200th birthday, had seen significant degradation in terms of its overall look.
The EDA brought in the original artist and spruced up the fading mural in an attempt to make downtown look more vibrant.
Economic Development
Prosser hasn't just benefited from the improvement in its overall aesthetic values, it looks to benefit in economic growth as well.
Heintz said because Prosser lacks the ability to keep its citizens in town with the lure of good shopping to satisfy all a person's needs, including clothing, food and luxury items, they travel to places like Yakima and the Tri-Cities.
Heintz sees that trend going by the wayside.
Last fall, a team of six graduate students from Washington State University began a three-month study of the downtown business district in Prosser. The students looked at a variety of different factors, Heintz said. On Nov. 28 they presented their findings to the community at a town hall meeting.
The students presented a PowerPoint presentation that detailed things Prosser could do to improve the downtown area for businesses. The Main Street Washington program was one of the big ones.
The Main Street program is a downtown business revitalization program, which includes many ways to revitalize the downtown area, including the formation of a downtown business association made up of local business owners.
Heintz said after a meeting earlier this week, eight to 10 business owners expressed interest in being part of a group that will make decisions about how to improve the downtown area.
Also, Heintz said her office receives several inquires a month from entrepeneurs interested in doing business in Prosser.
"We have seen a huge amount of growth in the last two years," Heintz said.
In mid-2005, the EDA sold a parcel of land it owned to Dan Denchel for development as a motorcycle shop. The land was given to the EDA by local owners who wanted to donate it, Heintz said.
Denchel's business will employ between 12 and 15 people.
Later this year, the city will also see ground broken on a project that will hopefully provide more tourist opportunities associated with the wine industry. The Walter Clore Wine and Culinary Center is a multi-million dollar project that will hopefully be an attraction for passing tourists, Heintz said.
"It's an attraction for people to stop and learn more," she said.
The center will show those who stop several aspects of the wine making business, from grape growing to fermentation to use in cooking.
The center is scheduled to open in 2007.
Business Owner Take
Though there has been a substantial effort to revitalize the downtown area, some local business owners aren't sold on the idea just yet.
Marty Taylor, who owns the record store Something Groovy in Prosser, said he's noticed a lot of change in recent months, but that hasn't yet translated into increased business at his store.
"How that (change) has impacted the business, I don't know," he said.
But Taylor has said he's noticed an increase in involvement in downtown affairs.
"It seems like there are more people involved," he said.
Taylor has operated the store for nine months, and in that time he has done the amount of business he expected to do in Prosser, he said.
Despite what might be called sluggish business, and slow implementation of new business ideas, Taylor said he thinks things are going in the right direction.
On the other side of that is Prosser Antiques owner Sharon Yost.
Yost said she doesn't see a lot of people coming into her store in downtown Prosser.
"I don't know what keeps them from coming," she said.
Yost said she didn't know if it was the fact that a younger crowd doesn't want to come out to the downtown area and instead wants everything in one place, like a mall, or if it's the fact that an older crowd just doesn't want to get out of their homes.
She also said the lack of big stores in Prosser hurts, too. Though many people don't like to shop at places like Wal-Mart, she said they often have the best deals and when people leave Prosser to shop at the big retail centers, they go elsewhere for entertainment as well.
"There are no name brand stores, and I think that hurts," she said.