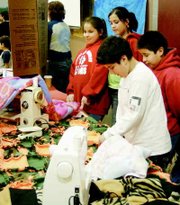 Kids at Outlook Elementary School clustered in small groups for nine weeks to get a taste of what they might like to do when they grow up.
For Tim Marshbank it was a snap decision as he drummed a beat on a deer skin drum he made himself.
"I want to be a rock star and have my own band and my own drums," said Marshbank. "I'd play the guitar and I'd be the Number 1."
The fourth grader even has a name picked out for his band.
"It would be the Number 1 Rock Stars," he said.
Marshbank, like 79 other students, spent about an hour and a half a week for nine weeks pursuing a specific interest. For Marshbank, that meant learning how to make drums and play them under the direction of Rich Perry, a speech therapist aide for the school who plays percussion with the praise team at Sunnyside United Methodist Church.
For other students, it meant studying volcanic action and making their own volcanoes, learning how to quilt and wield artistic skills, among other things.
Their nine weeks of work paid off yesterday at a cluster fair where they displayed their completed projects and demonstrated their newly learned skills.
"When I grow up, I can get a job watching volcanoes," said Jesus Castillo, who was one of seven students in Lucy Partida's volcanic group.
Partida's started out as one of the larger groups among the 13 clusters; some had only four students. The limited number assured that every student would receive concentrated attention from their instructors.
Manuel Aguilera, who said he'd like to be a designer after his quilting experience, had a head-start with sewing.
"I was interested in sewing before," said Aguilera, who sewed a pillow case and a shirt for himself before joining the quilting cluster.
The amazing thing about Aguilera's efforts is that he had no sewing machine at home on which to work, so he sewed his shirt and pillow case by hand. While he had a machine at school to use during the quilting session, he did much of it by hand.
Asked if he'd like to have a machine, Aguilera said, "A machine is slow. I can do it quicker myself."
His flannel quilt, done in alternating squares of green and camouflage, speaks well for his effort and his teacher, Laura Trujillo, who is a full-time para-educator for Outlook Elementary School.
Monica Echauri, a fellow classmate in Aguilera's quilting cluster, had plans for the fuzzy, warm quilt she designed.
"I'm going to show it to my family and friends and even my neighbors,' said Echauri. "And I want to sleep with it!"
Rita Cruz's Moving and Grooving Group took a trip to the Yakima YMCA as part of their exploration into athletics, as well as indulging in basketball, football and soccer at the school.
"We like to jump rope," said Katelyn Hazzard. "And other sports!" exclaimed Carrie Measel.
Hazzard said she might like to be a gymnastic teacher when she grows up. "And I want to be a cheerleader," she said.
Measel and Jose Zepeda, also in the Moving and Grooving cluster, said their field of interest showed them that a career as a gym teacher or a coach is possible.
The Cluster Fair, the finale to nine weeks of experimenting, is part of the 21st Century Learning Center at Outlook, which is funded through a government grant and is in its fourth of five years.
"Next year is the final year for us to use these funds, and we are currently working on sustainability plans," said Luz Garza, school counselor at Outlook who supervises the program, which also offers free English classes to parents.
She has a staff of 20, and takes pride in the fact that Outlook's program was honored at the 21st Century Kick-off Ceremony this past fall for best attendance last year.
"The goal for the number of students served in one school year is 150," said Garza. "We will have passed that goal by the end of March with 180 students served. And we plan to supersede that number by the end of May with a total of over 250 students."